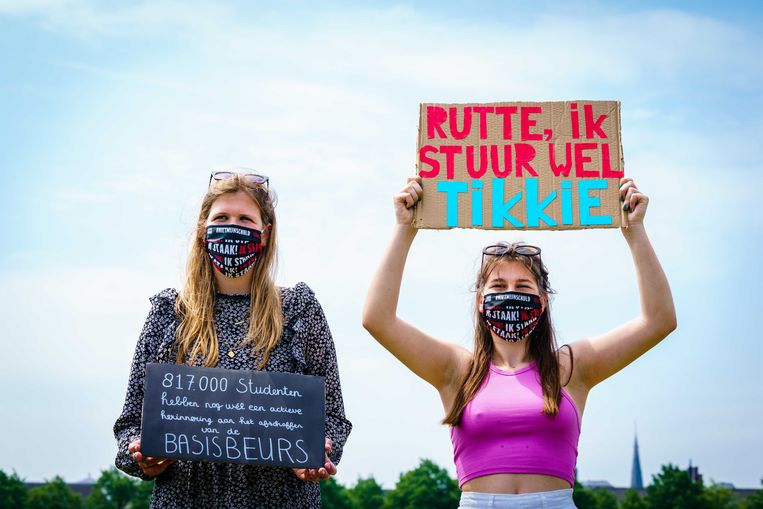 today's letter

If you wanted to study at a university in the 1960s and your parents' income was not sufficient, you could get a scholarship in the form of an interest-free advance. The size of the scholarship was income-related.
The extension of your interest-free advance depended on your study results. With excellent results, you even got a grant as a gift. Two years after graduation, you would have to repay the advances in ten annual installments.
Even then, there was a shortage of teachers, especially in the youth educations. In order to encourage university graduates to work with education, it was possible to get a call for your student debt. For every year you had a full-time job as a high school teacher, 20 percent of your debt was forgiven.
I think it would be a good idea to get this scheme up and running again to address the shortage in care and education. Who knows, maybe they will stay in the work area as well. Now do not say: 'it costs too much', in the sixties we had much less to spend.
P. van KruchtenMaastricht
talk shows

In the article 'Are we done talking? The 10 Plagues of Talk Shows' explains why TV talk shows attract fewer and fewer viewers.
I would like to add an eleventh plague to it: to prefer to inflate the excessive attention on problems up to world size.
'Bad news sticks', journalists are taught during their training. But too much negative news will unnecessarily affect your mood. In talk shows, you should therefore be just as aware of solutions as of problems.
Hans van HezewijkZoetermeer
By bike

Everywhere I read regrettable comments about the dark clouds over this 'unique' Dutch custom: a prime minister cycling to work. Soon, politicians will no longer be available. But would the effect of this traded know-us not be reversed? The jovial ceremony hides the gorge itself. You are sewn into the suit with a smile. To me, it's still 'Mr Rutte'.
Pim LigtvoetAmsterdam
Performances

There are artists who cancel performances because of something resembling solidarity with those who do not want a QR code. Because they say they want to perform for everyone. There are also those who would like to perform. It seems to me that the use of QR codes is outside their sphere of influence. They are in solidarity with all other stakeholders. There is a part.
It seems to me that the former consider themselves very important. And the attention to their person. Nor could they have arranged performances based on their principles before the pandemic was no longer a pandemic. It's not very far away and it would have been fair to their audience, collaborators and promoters. Which they are now dealing with in a shocking way.
ECA BoucherAmsterdam
apples

'Grab' normal 'Dutch apples like Elstar and Jonagold', writes Loethe Olthuis in answer to the question 'Which apples should I buy now?'
But dear Loethe, I have eaten Elstar all year round and Jonagold has almost no taste. These months, the shelves are filled with delicious, short-lived Dutch apples like James Grieve, Delbare, Alkmene and Cox's Orange, just to name a few. All varieties with unique taste. Can't find them in the supermarket? Go to the greengrocer. And Elstaren, it's coming later when the last Cox's start to get corny.
Norbert PigeonWageningen
Mona Keijzer

In her farewell letter, Mrs Mona Keijzer completely misses the point. As a 'conscientious objector', she could have left the cabinet at an earlier stage. Giving an interview in the Telegraaf on Saturday, the introductory day of the corona app, and then getting you fired, makes me suspect she's primarily interested in effect.
French passportThe Hague
Welcome

Customers should feel welcome in the hotel industry. The Corona Pass would stand in the way of that. I have the opposite. Now that we leave the meter and a half of society behind, I have a hard time walking on the terrace, let alone daring to enter the catering industry. With a good check on the passport I was able to get over it. Without that passport check, I give up. So what does the hotel industry mean when they say the customer should feel welcome?
Aarnoud SmithLochem