Frederik Nieuwenhuys goes through the brand new Utrecht distribution center for his company Picnic. Here, at Atoomweg, the online supermarket has automated its production process as much as possible. Via an ingenious network of runways, one box after another rolls with food off the conveyor belt.
Despite the automation, about eight hundred to a thousand people still work here. Nieuwenhuys points to various open spaces where the tires pass. 'This is where our order pickers, for example, will be,' says the co-founder of Picnic.
Conquer the French and German markets
It is distribution centers like this that Picnic wants to focus on in the near future. Automated centers are also planned in Zwolle, Ridderkerk and Dordrecht. Meanwhile, at Picnic, they are busy conquering the German and French markets.
In Germany, the company has been active in the federal state of North Rhine-Westphalia since 2018, and in France, the company operates in the northern city of Lille. Nieuwenhuys explains that Picnic wants to expand to 'all major urban areas in Germany'. 'Think of Hamburg, Berlin, Frankfurt, Stuttgart, Munich, Hanover and so on.'
In France, where Picnic has been held since last autumn, the accelerator is also being stepped up. 'We are going down to a big city south of Lille', says Nieuwenhuys cryptically. uh, Paris? "It could be," laughs the 54-year-old entrepreneur.
also read: These 5 strategies bring Picnic and Coolblue success in Germany
To realize all these expansion plans, Picnic needs to build an arsenal of new distribution centers and so-called 'hubs'. These are places from which electric cars can start their delivery routes with often up to 45 addresses. "We may have to set up twenty filling centers in Germany and two hundred hubs," says Nieuwenhuys.
Order pickers to lead
All of these foreign distribution centers and hubs must be operationally managed. That's why Picnic isn't looking for HBO graduates and academics. In a new talent program, the delivery supermarket is emphatically looking for Picnic employees with an MBO background, as if to quote Nieuwenhuys 'looking forward to it'. Think of the previously mentioned order pickers and other types of warehouse staff.
They can sign up for the online 'grocery store' to start working in a managerial position at a new, foreign location for six to twelve months. This year, Picnic hopes to inspire 150 of these employees to this so-called 'Olympia program'.
Germans are often more formal than Dutch
Picnic reimburses them for their accommodation and travel expenses and offers the students all language and culture courses. 'Germans are often more formal than Dutch people,' explains Nieuwenhuys. 'It's useful to know if you want to lead a team in such a country.' A wage increase is not part of the program, the entrepreneur said when asked.
First expat program for MBO students
Previously, the scaleup had such a program for HBO graduates and academics, but it is the first time that the online supermarket has also set up such a program for practical graduates.
'We see that a large proportion of our employees are relatively poorly educated,' says Nieuwenhuys. "These are people who work in the warehouses and do a lot of physical work. We thought: is it not interesting now for that group of people to think about how they can continue their career in the company? '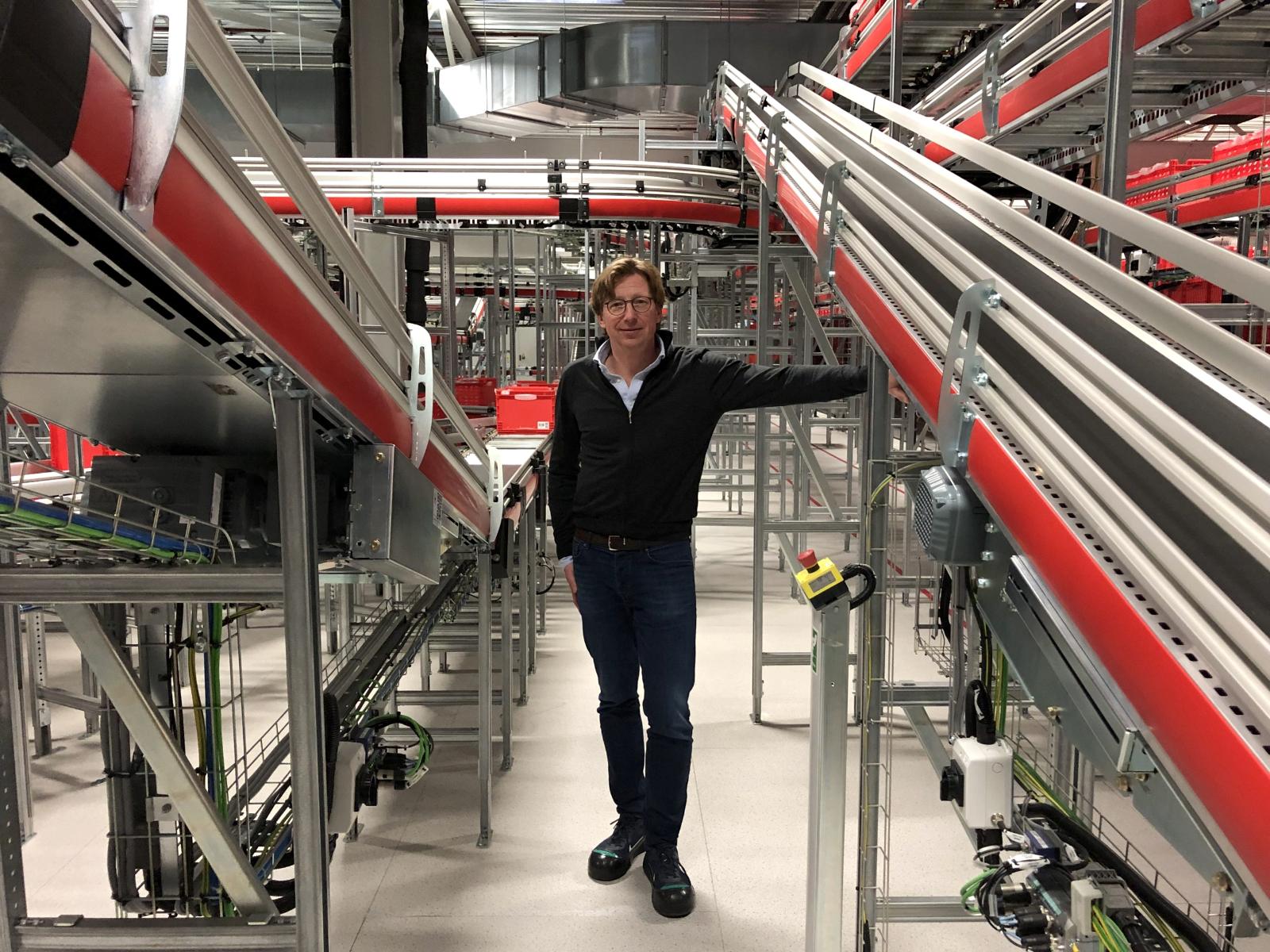 Nieuwenhuys greets one of his colleagues at the coffee machine, a young man of about 25, who works in the office of the brand new distribution center. A previous drop-out with ambition, says the Picnic entrepreneur. 'His education had failed and he went here to work on the floor, pick orders, etc. In his free evenings he still followed a course and now he is three more positions in the company.'
Picnic wants to offer opportunities for MBO students
These are the kind of people that Picnic's program refers to. 'We want to offer them opportunities, but you have to go for it. With us you can manage a building of 500 people at the age of 25 years. It's quite hard mentally, because everyone scratches your back all the time.
The fact that Picnic focuses exclusively on people with an MBO background in this internationalization program is a challenge, by Nieuwenhuys. 'We have fulfillment centers in locations all over the Netherlands, and people are constantly being placed back and forth. We see that people with an MBO background are generally less likely to do so than those with a higher education. The latter group has often studied abroad for six months. We notice that it makes less of a difference to them whether a position is in Friesland or Eindhoven. '
Pattern break
According to Nieuwenhuys, employees with an MBO background are often more location-specific. 'You kind of grow up in a town or village where you keep living, finding a partner and starting work.'
Is it not a challenge to get this group of people abroad? 'We observe it, but would like to break that pattern. We think there are also many MBO graduates who would like to go somewhere but do not have the facilities for it. '
Not only the AI ​​programmer, but also the chef must be able to develop further with us
Picnic hopes this program will also enable it to make a difference in the current tight labor market. 'We try to be a really good employer. You get this not only by offering good primary, but also secondary terms of employment. In other words, the opportunity to further develop yourself as an employee. 'It should not only be there for the hyper-intelligent AI programmers, but also for the Indian ladies who work in the kitchen here, for example.'
Competition from Gorillas
Not only the job market but also the food delivery market is hypercompetitive in 2022. Last year was dominated by the rapid increase in speed camera delivery service such as Gorillas and Getir. Unlike Picnic, they do not work with a time limit to be determined, but promise to deliver within fifteen minutes.
Nevertheless, Nieuwenhuyzen is not particularly concerned about this development. 'Cameras take a 10 to 15 percent higher price than usual. They also charge a delivery fee of a few euros. Suppose a supermarket would charge all customers 3 euros for parking. Then the enthusiasm would probably be low. '
Still, the enthusiasm for speed cameras is great because they deliver very fast. It could be, the entrepreneur believes, but the target group is different. Picnic focuses strongly on families with some time who want affordable products. Flash delivery drivers, on the other hand, are said to mainly cater to young people who want a quick beer for pizza.
The development of flash applicators may not be so bad
"We want to do some things really well, but we can not do everything in the world. The things that flash vendors supply are quite expensive. I wonder: who wants to increase their grocery budget so much to get everything as quickly as possible? I think, but time will tell that this development may not be so bad. "
Millions loss for Picnic
Meanwhile, Picnic is still loss-making. Last year, the company suffered a loss of 44.8 million euros. Can Nieuwenhuys already mention a date where he will guide Picnic through the break-even point? No, he does not want to, because 'we are a growing company'.
'We are profitable in the places where we have been operating for a long time.' He refers to the Dutch locations. "But if we start in Berlin, we will not make a profit there immediately after a week. It can also take a few years. We look at how we can do well in the mix, and only then do we focus on (full, ed.) Profitability. '
At least there is enough money to grow. Last autumn, Picnic raised 600 million euros from, among others, the Bill & Melinda Gates Foundation. On Wednesday, it was announced that the company managed to secure 120 million euros from the German KfW Bank for the construction of an automated distribution center in Oberhausen, Germany.
Royal Picnic
Could the next step be an IPO? According to Nieuwenhuys, Picnic is 'in no way' involved in this. 'We are now in the industry and want to see where the ship runs aground. Maybe we take one more round, maybe never again. There are so many companies that have been around for ten years and are not raising growth money. Take Porceleyne Fles from Delft or Koninklijke Tichelaar from Makkum. If we can set up a business in the really long term, that would be great. '
In other words, the goal is a Royal Picnic? Nieuwenhuys must laugh. 'You can quote me about it. The next target is the predicate "royal". '
Read more about supermarkets and retail: