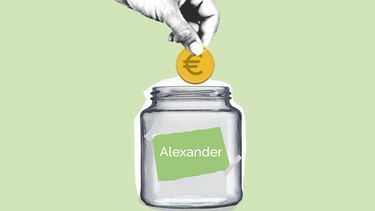 How much money is in your savings account? We ask a different Dutchman every week. Because even though we talk more and more about money, we never talk about exactly how much we earn and save. This week: 24-year-old Alexander, who has set a goal and has four months left to reach that goal.
Profession: customer manager
Salary after tax: 3100 euros (including sales bonus and minus additional car)
Living situation: at home with the parents
Alexander's savings account
Tell me how much is in your savings account?
"There is now 90,000 euros in my savings account. I'm happy about that. I've been saving up for a while now; since I was 15 actually."
How much do you save per month?
"I do not save a fixed amount per month. I am paying particular attention to my expenses. I save everything that is left in a month. Statistically, I save about 80 to 90 percent of my monthly net income.
I also keep a very accurate record of how much goes in and how much goes out. Overview ensures that you can save well. In my opinion, you need to know where your money is going and how much. Not only do you prevent possible debt with an overview, it also provides insight into your finances.
If necessary, you can set goals based on your overview. For example, 'spend less money on clothes'.
Can you explain your salary?
"I receive a net amount of 2500 euros in my account every month. The supplement of my car has already been deducted from that amount. Fortunately, I drive an electric car, which saves a lot on the supplement. If you do not include the supplement, my net salary is 2850 euros.
I also get a sales bonus at the end of the year. The sales bonus can be up to 15,000 euros. Based on the past, the sales bonus is often 11,000 euros gross on an annual basis. Net it is about 7000 euros. If you were to include that amount in your monthly salary, you would reach 3100 euros net per month. The surcharge on the car has therefore already been deducted from that amount. "
Do you consider yourself to be good for money?
"Yes, it is now. During my studies I made many expensive purchases. Lots of designer clothes, bags, shoes, etc. I regret it most. I always thought it would bring me something. That is not true.
I think it was because of age. Partly also through social media. You see things in others and sometimes think 'I want that too'. But an expensive backpack or shoes do not make you happy, I luckily found out 'quickly'. From my second year of college, I started keeping track of my income and expenses. After that, I never made any purchases that I regretted afterwards. "
What would you like to change about your financial situation?
"I started working when I was 14 to 15 years old. I was earning 3.17 euros an hour back then. One night I asked my dad how much I had to work before I could buy a used Audi R8 convertible in a few years. My dad told me that the better I was with my money, the faster I could buy the car.
When I turned 16, my goal changed. I wanted to save my money for my future house. I was already aware that my own money is important for a house. This has become even more important in recent years.
When I was 16 I said; I would like to have 100,000 euros in savings when I am 25. I have four months to my 25th birthday. Now I am at 90,000 euros. The only thing I want to change about my financial situation is to reach the 100,000 euros. "
You earn well, why do you still live at home?
"It is not the housing market … I do not have a permanent contract either. You often need that for an owner-occupied home. "
What is your best financial tip?
"Start saving early! Get to know the value of a euro. Especially for my generation, a difficult economic time awaits us. We have violent inflation. House prices are very high. Own money is and will be extremely important. Think also of to create an overview of your finances.Where does your money go? How much does it take?
If you can save money, see if you can invest some of that money. Your savings are currently worth nothing in the bank. However, the stock market is very high. Investment can therefore also be a danger now. In recent years, we have had to deal with huge economic shocks from the corona and now from the war in Europe. Despite this, the markets are absurdly high. Crazy if you ask me.
Usually I invest a significant portion of my assets, but at the moment I keep my money away from the stock market for a while. You can therefore also consider starting to invest when the stock markets start to fall for the first time. "
Anouk's savings account (19): 'I have more than 20,000 euros in savings'
You can find all articles from this series here. You can find other useful articles on money and career here.
Have you seen an error? Mail os. We are grateful to you.