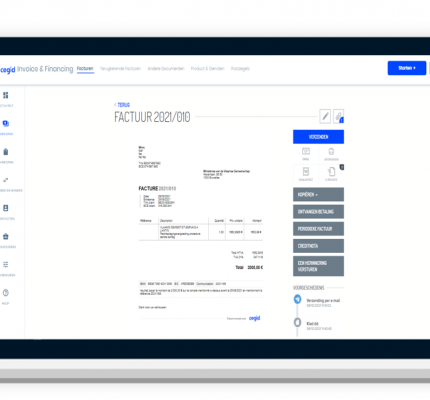 Cegid, a leading provider of cloud enterprise management solutions for finance (financial management, tax, ERP), human resources (payroll, talent management), CPAs, retailers and entrepreneurs, recently acquired Koalaboox, a specialist in billing and financing solutions for businesses . This allows the company to focus on further growth, thanks in part to Cegid Invoicing and Financing, a simple and flexible invoicing and factoring solution tailored to small and medium-sized businesses.
Since 2012, Koalaboox has been developing a user-friendly cloud-based billing software for SMEs, complemented by a single-click financing solution. To achieve this, Koalaboox developed exclusive credit scoring algorithms. This solution has enabled the company to build a community of more than 20,000 entrepreneurs and 950 administrative offices in Belgium.
The ease of use and efficiency of the innovative solution ensured rapid user adoption of Koalaboox in recent years. Since the acquisition, it has operated under the name Cegid, but has not changed its day-to-day business operations. Cegid, on the other hand, has invested heavily in the company in recent months: The management team was strengthened with senior experts, and the number of R&D staff was doubled to add many new features to the product, especially for accountants.
According to Grégory Desmot, Director Business Unit SME at Cegid, this all-in-one solution turns 'classic' factoring into an advanced form of financing that is easily and quickly accessible with just a single click. Desmot: "Thanks to Cegid's expertise in AI technology and data, this very simple, useful and innovative solution makes it possible to quickly and accurately determine the probability that the end customer will pay the invoice, and then a payment to the entrepreneur made in this way. "
Innovative payment solution
Cegid Invoice & Financing, a simple and flexible end-to-end full digital solution, enables customers to finance invoices with almost instant financing authorization, very fast onboarding and KYC (Know Your Customer). The customer receives their money within 48 hours, which meets the working capital requirement.
The company expects to increase its market share significantly in the coming years, not least due to the corona crisis, there is a great need for solutions that make the companies' cash flows more manageable. With the acquisition of Koalaboox, Cegid consolidates its strategy focused on value creation and economic sustainability for small and medium-sized enterprises by providing a disruptive payment experience. The markets of France and the Benelux can make direct use of the technology, and many other European countries are accessible via a network of ISV (Independent Software Vendors) partners thanks to two APIs developed in recent months: "Cegid Click and Finance" and "Cegid Buy now, pay later" for B2B.
"Many finance providers are already active in the B2C segment, where the payment method of private individuals changed faster. Many original providers have also been financing the B2B segment for a long time, but usually specifically for large companies. Moreover, these actors are not organized or equipped to offer the same experience to SMEs only a few providers can. In Europe, the market for small business financing is worth more than 300 billion euros and is growing by 20% a year. We want to occupy a significant part of this market and become a major player, "concludes Desmot.
This article is a submitted message and is not the responsibility of the editors.