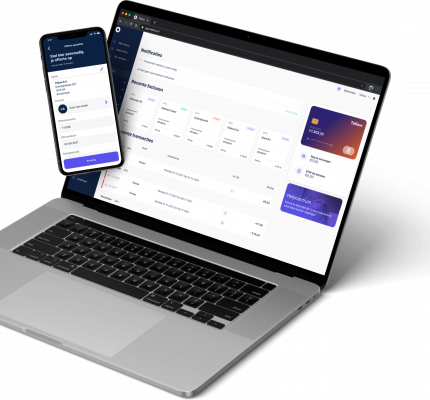 Amsterdam, January 19, 2022 – Self-employed people experience problems with their tax return. They find taxation a difficult subject and they often spend hours on it. Tax recognizes this challenge and has therefore developed the module AutoFill Profit Statement (AWA). Tellow is one of the first to implement this in its accounting software. The integration of the tax return module into Tellow's product represents an important step in the digitization of accounting and archiving. From 1 March, the self-employed can submit the surplus part of the tax return from the accounting program.
Problems for freelancers
The tax return is a major challenge for the majority of the more than 1 million self-employed in the Netherlands. Many of them do not report – or do so too late – and many unnecessary mistakes are made. Many entrepreneurs know too little about taxes to see what their obligations are. Or they do not see exactly how they can comply with laws and regulations. No less than 60% of all errors are the result of careless administration. In particular, the profit statement, one of the components of the income tax process, is perceived as complex. Self-employed people do not feel sufficiently supported, they often spend hours on it and are never quite sure afterwards whether they have done the right thing.
New declaration module ib
To reduce the administrative burden for the self-employed, Tax has released a tax return module that can integrate accounting software from companies like Tellow into their software. With this AWA module, the profit part of their tax return is taken directly from the accounting package and is included in the Tax Authorities' online tax return. Fewer manual calculations and steps will be necessary because the correct data is filled in automatically. The tax return will therefore take much less time and the chance of error is significantly less. And it prevents cumbersome interruptions, such as questionnaires and complaint procedures, later in the declaration process.
Future-proof
The integration of the module with Tellow is a good example for the Tax Authority to execute its strategy of becoming an agile and future-proof organization. "Tax wants to make use of the digital opportunities so that entrepreneurs can easily submit their tax returns via their own administration. Therefore, the Danish Tax Agency is taking steps towards a continuous administrative chain that matches the entrepreneurs' everyday lives as closely as possible. We do this together with entrepreneurs, tax providers, software developers, banks and other public parties. " says Jeroen van Hulten, program manager for digitization in Tax and Customs SMEs: "We are pleased that Tellow is now going to integrate and use the module."
Easier and more fun
Tellow also sees opportunities in the integrated declaration module. The company has been working for a long time to simplify the registration process and offers all sorts of useful functions for the self-employed. In this way, the VAT return can be submitted automatically every quarter. Thomas Vles, Tellow's CEO, welcomes the fact that Skat meets the needs of the self-employed. He sees the collaboration as an important step in the digitization of accounts and declarations. "With Tellow, freelancers can quickly and easily manage their administration via laptop or phone. The declaration module fits into this without any problems. With this, we not only make taxes easier, but also more fun. "
– End of press release –
Boiler plate
Tellow is an automated accounting program, founded in 2016 as an initiative from Rabobank, specially designed for micro-enterprises and the self-employed. The Fintech company is a one-stop-shop for all financial matters for self-employed entrepreneurs, so they can focus on doing business without worries.
Using the app, users can, among other things, create and send offers and invoices and keep track of their finances. Users can also easily scan their receipts and invoices. Every quarter, people can submit their VAT return to Tax via the app with a single click.
Tellow Complete also calculates and submits personal and business income tax through Tellow. For added security, accountants check all their declarations for the price of a digital app. Thanks to the smart combination of software and real accountants, we can offer people security at an affordable price.
Earlier this year, parent company Ageras Group raised $ 73 million in growth capital. For the Dutch market, the market Tellow focuses on, the funding will be used to help Tellow grow into a market leader.
This article is a submitted message and is not the responsibility of the editors.