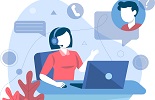 More and more online customers
April 15, 2022 †
In 2021, the number of online applications increased significantly, both for new and existing customers. This trend is primarily due to the corona pandemic as it led to a sharp drop in the number of physical appointments and the world became more and more digital. But while the pandemic is hopefully over, it does not look like people will be more likely to submit their applications physically rather than online in 2022.
However, service providers cannot expect to automatically benefit from this growth just because the public is switching to digital solutions. If you do not have an efficient onboarding process in these times, you risk losing customers.
Optimize onboarding
For most companies, this will not come as a total shock. Some (but not all) companies are aware of the onboarding shortcomings and are taking steps to address the issues. In the Forrester Consulting report, Data, Digitization and the Return to Pre-Pandemic Growth, commissioned by Experian, respondents mentioned improving the customer experience as the company's top priority. But there is still a lot of work to be done. Fortunately, there are hopeful signals and a lot of technological innovation is taking place.
Nearly half of respondents (47 percent) rated their onboarding process as average or below average. This is while good onboarding is paramount, as companies are on their way back on track after being a little surprised by the 'digitalisation wave' of 2021. Specifically, the onboarding process needs to be accelerated without leading to more scams or at the expense of the user experience.
Speed ​​vs. security
Whether you order your food online or stand in line at a coffee shop, consumers today expect a fast and hassle-free experience. And the online world is no different. That 30 percent of consumers indicate that the online application process is slower than expected is therefore a problem. Especially when this has resulted in 64 percent of consumers leaving an online application within the last 12 months before it was even completed.
A major reason for this slow process is the pursuit of safety and consumer protection. After all, large amounts of data and personal data are needed to effectively prevent fraud. Of course, companies can not just skip this important step. But there is something to be said for the fact that the focus on safety rather than speed leads to the cancellation of applications and thus the loss of revenue.
Embrace technology
The solution lies in the use of technology that both guarantees safety and speeds up the process at the same time. 61 percent of companies plan to invest in digitizing key services to do just that. And there are plenty of technologies that are well-suited to achieve this goal.
Most (55 percent) organizations admit that current anti-fraud strategies are annoying. With biometrics – fingerprint scans, face recognition, etc. – it becomes easier and faster to verify a person's identity and thus prevent fraudulent applications. Customers welcome that too. 40 percent of the customers who participated in the survey are willing to adopt such technology.
Technology to verify a person's identity remotely can also enhance digital customer acquisition. Their identities can then be verified from their computer or mobile device, wherever they are. Two-thirds of companies (67 percent) have identified remote authentication technology as a top priority or critical for the future. The other 33 percent would do well to prioritize this as well.
In addition to these tools that make the end-user experience more seamless, advances in artificial intelligence (AI) and machine learning can improve the onboarding process and automation. By optimizing data, these technologies can improve business efficiency. This, in turn, requires investment in the technological infrastructure and expertise to unleash its potential.
A lasting impression
In the digital world, the customer experience is crucial, and onboarding is a critical part of this journey. The integration of the aforementioned technologies can help companies keep up with the growing number of online applications. But they also help companies differentiate themselves from the competition and thus retain customers.
Two things are said to be irreversible: time and the first impression. Fast, efficient and easy onboarding can ensure that service providers do not screw up either.