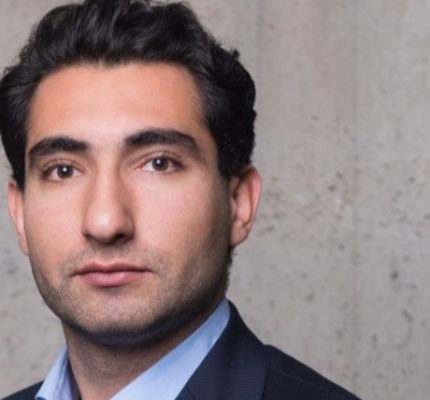 Amsterdam, May 9, 2022 – Gorillas expands the Dutch team with Head of Public and Government Affairs Benelux Mazdak Soltani. From 19 April, Mazdak Soltani will be responsible for all external public affairs and relations with the community and central and local authorities. Thus, he forms an important link between translating internal goals into external policy and vice versa.
Gorillas are committed to the people for whom it exists: customers, society, suppliers and employees. For example, Gorillas works with local entrepreneurs and its employees. As the grocery industry continues to evolve, Gorillas is determined to grow with it and lead by example. In Mazdak Soltani's new role, he will lead discussions with the government and ensure that gorillas stay at the forefront of the industry in a sustainable way.
Mazdak Soltani comes with many years of experience from the public sector. In his last role in the Ministry of Finance, he has over the past two years implemented fiscal policy initiatives from the corona support package in collaboration with the main industry organizations and other stakeholders. In addition, he was one of the founders of a Tax Governance Code – a broadly supported code of conduct for listed companies for transparency about their tax position. In addition to shaping policy in the field of innovation, he as legislator was also responsible for introducing a wide range of purchasing power measures from the Rutte III cabinet. He finds the social side of work important. Against this background, Mazdak Soltani has been active as chairman of the Ministry of Finance's Cooperation Council in the Ministry of Finance and is active as a volunteer in Rotterdam's policy.
†Gorillas respond to the need to have more control over their own lives and fit into a changing society. A traditional 'one size fits all'-The model no longer fits: whether it's about family composition, preferences in the way of working, or how someone can spend one's time and resources. From my own experience, I know that gorillas serve many different groups of people. I also believe that a positive social impact is important. I choose Gorillas because of the collaboration with local providers, the steps it takes to establish itself in the streets in a sustainable way and the fact that the riders come first. I look forward to contributing to the further development of Gorillas' mission. " says Mazdak Soltani.
Sadik Cevik, General Manager Gorillas Benelux: "Since December 2020, we have seen a lot of growth at Gorillas. We have the ambition to continue our growth in the coming year, where it is important to continue the collaboration with both local stakeholders and our community. We is very excited that Mazdak Soltani will run this at Gorillas in the Netherlands. "
ABOUT GORILLA
Gorillas, founded by CEO Kağan Sümer, builds an infrastructure for the fastest daily delivery of groceries. On-demand delivery start-up brings the ordered groceries to the desired location of the consumer within minutes. Users of the Gorillas app will have access to more than 2,000 essential products at supermarket prices for a delivery fee of 1.80 euros. By disrupting the shopping and supply chain experience in traditionally slow and rigid supermarkets, Gorillas aims to shape a new form of consumer behavior when it comes to grocery shopping: Need-Order-Get. Unlike established gig-economic models, Gorillas employs all of its riders and has employed a diverse team of more than 15,000 employees worldwide. In just over a year, Gorillas has expanded to more than 60 cities, including Amsterdam, London, Paris, Madrid, New York, Milan and Munich, and opened more than 230 department stores in 9 countries. More information can be found at www.gorillas.io
This article is a submitted message and is not the responsibility of the editors.