At Kafenion, you drink your coffee cold – according to Greek tradition. And if you ordered a freddo espresso, you'd better stay there all afternoon. Owner Impraim Elgantour (33): 'We are actually a large group of friends.'
Kafenion breathes Greece: the music, the bottles of olive oil and jars of honey standing on the counter. The old yellowed cookbooks with traditional Greek delicacies in the cupboard. We are there on a Saturday afternoon, it is a come and go of guests. People chat at the wooden tables, two friends play blackboard – a Greek variant of backgammon. A boy is working on his laptop.
Behind the bar, Impraim Elgantour, Nikos Mentenzis and Valentinos Iordanou are quickly making coffee. Despite the crowds, everyone is greeted warmly, most guests know them by name. In the small kitchen at the back, employee Omar is busy with spanakopita: flakes of phyllo dough, feta and spinach.
Beach tent at Salamina

It all started with a small coffee shop in the Red Light District, founded by Impraim Elgantour – Greek mother, Egyptian father. He has a degree in electrical engineering from the National Technical University of Athens. Yet his heart was in the hospitality industry. Therefore, he started a beach club on Salamina, the island where he grew up. It turned out to be poorly timed: During the financial crisis, the islanders did not wait for a beach club.
"That's why I moved to Amsterdam in 2015, when I opened District Coffee Amsterdam in De Wallen," says Elgantour. "But only tourists came, while I just wanted to make coffee for people from the city. Amsterdammers and Greeks who live here. "And then it was time for a new place, and 31-year-old Nikos Mentenzis would help him with that." I used to visit District Coffee regularly, and sometimes I jumped in when there was busy, "says Mentenzis. Coffee had been his big hobby for years. When Elgantour asked him to help with his next case, he did not hesitate.
From ruin to coffee house

"I moved to Amsterdam in 2016 for a better life and a better future," says Mentenzis. "Many Greeks have come to live here for that reason. There was not really a place in Amsterdam where young Greeks could come together and meet. And where you can eat Greek local specialties and drink coffee the Greek way. We wanted to create such a place. "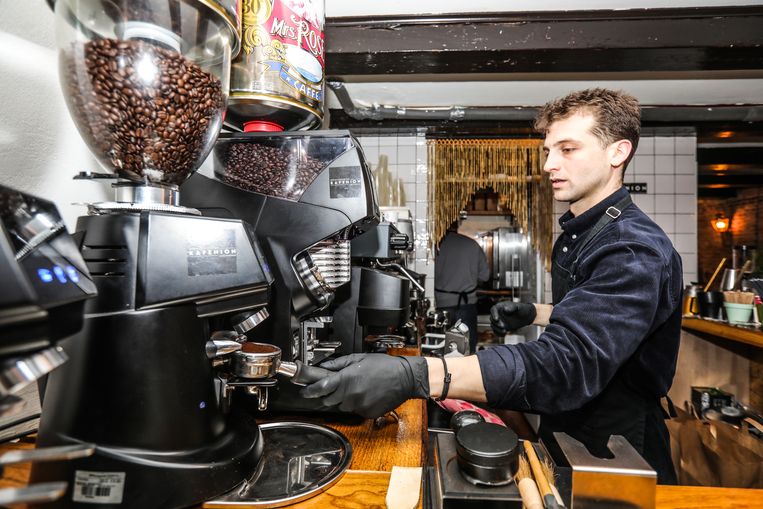 And then there was the building on the Bloemgracht, which had stood empty for some years. On the wall still hangs the iron sign with Café Biljart de Koophandel in graceful letters referring to the brown pub that once sat here. "It was really a ruin, but we renovated everything with a small club," says Mentenzis. "After hard work, we opened in February 2021."
The place is based on a traditional kafenion. "It's a Greek coffee house where people meet to exchange news, talk politics and play cards," says Elgantour. "So it's a really social place. Every village has one. "
At home for a while

A living room, regular resident Jan Verdonk calls it. He lives within walking distance, on Prinsengracht. Verdonk loves the coffee shop because, in his own words, he is 'half Greek'. "I have been in Greece since 1972. First only for vacations. Then I studied Greek at the University of Amsterdam, and in the nineties I lived for a while in Crete and later on Patmos, one of the islands of the Dodecanese. I even got married with a Greek for a while. So I speak the language fluently. " After a short silence: "Really fluent, you know. I even dream in Greek."
And so Kafenion is like coming to his home – even though he was born and raised in Amsterdam. He chats with some guests, shouts something in Greek to Elgantour. An americano on the table next to him, his bouzouki on his lap. "This is a Greek guitar that is used a lot for rebetika, Greek folk songs. I take it with me every now and then, just to strum a little."
Verdonk sees how important Kafenion is to Greek society in Amsterdam. "A place where especially young Greeks meet and feel at home for a while."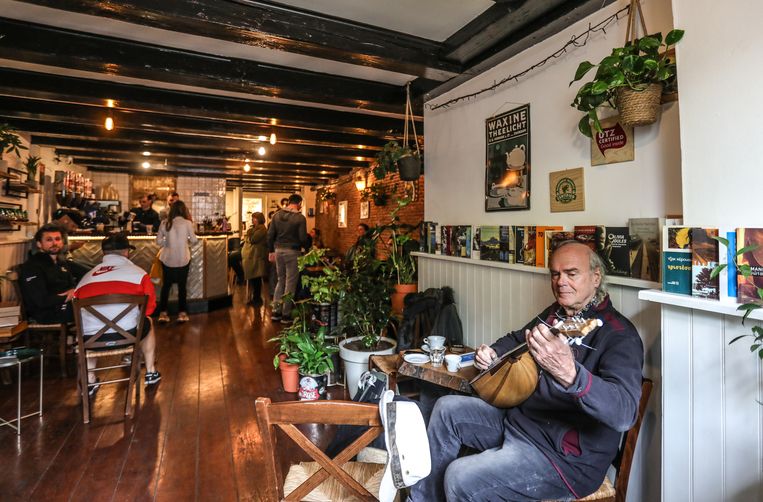 we know each other

This also applies to Orestis, at the table by the door. He comes from Thessaloniki and lives in Haarlem. Here he especially misses the bougatsa: hot phyllo dough, cinnamon and whipped cream. "I often come here Saturday or Sunday for such a typical Greek breakfast." He points to the side: "I took my Spanish colleague Juan with me, I thought he should taste it too."
Ilias and Apostolos ("Apo" for friends) lean against the wall, both freddo espresso in hand. "In Greece, we always drink our coffee cold, even in winter," says Ilias. He and Apostolos both work as chefs at Kaia on Europaplein. In the morning, they often cycle past Kafenion before work, just to start the day. It is now that we know each other.
"We are actually a large group of friends," says Impraim Elgantour. "There are a lot of networks, for example the Greeks help each other find a job or a home. "Once people get here, they keep coming back."
Mix of cultures

The same is barista Valentinos, who is just working on two flat whites. He comes from Cyprus and has lived in Amsterdam since August. "I am pursuing a master's degree in physiotherapy at the Free University," he says, skimming the milk. "When I moved here, I immediately started looking for really good freddo cappuccino. That's how I ended up at Kafenion. I still needed a side job, so I decided to work here. "
"I think sixty percent of our customers are Greek," says Elgantour. "The other forty percent are Dutch, expats and some tourists." Nikos adds: "And that's exactly what we want. It may have started as a place for Greeks, but now Kafenion is a cafe where people from all cultures meet. Where we teach the Dutch about Greek culture, and where other expats and tourists also feel at home. "
Likewise, the Lithuanian Sandra and the Lebanese Pascale – both moved to Amsterdam for love. They work together at the Mövenpick Hotel and regularly visit Kafenion, 'for the good coffee and the good atmosphere'.
the neighborhood cafe

But Kafenion also does very good for the neighborhood. Marc de Jong has lived on Bloemgracht for years. "It sounds crazy, but this is where I meet my neighbors. Some people have lived in my street for years, but I get to know them here. "
Nikos Mentenzis is happy that many Amsterdammers are coming to Kafenion. "The Dutch actually really like coffee – even if you don't always see it. Then they come here and they order a latte. One wrong coffee, why would you drink it? " He smiles.
"Not everyone knows that, but coffee is very important to Greeks," he adds. At Kafenion, we are always looking for quality. We have the best beans, the best machines, and we use an Italian technique to make espresso. " Will Italians ever come? Elgantour: "Yes, and they love our coffee. I've even heard that they drink better here than in Italy … "
Greeks in Amsterdam

According to CBS, about 31,115 Greeks lived in the Netherlands in November 2021. In Amsterdam there are 3625. Especially young Greeks, between 15-45 years, come to our country. In the 1960s, the number of Greeks in the Netherlands increased due to labor migration, and the first Greek restaurants opened here from the 1970s. Since the Greek debt crisis in 2010, the number of Greeks in the Netherlands has increased by 80 percent. In Amsterdam, there is still an increase.