Growing fruit goes further than your own orchard, say Kees, Marjori and Erik Snoeck from Schellinkhout. Erik Snoeck has been in the partnership for two years. All three enjoy social contacts outside their own patio. Each in their own way.
Marjori Snoeck is responsible for the fruit stall at Fruitbedrijf Snoeck on Dorpsweg in Schellinkhout in North Holland. During the corona, home sales of apples and pears picked up speed. 'People needed a talk. I never felt lonely during the lockdown. Since then, we have gained a large group of regular customers, she states.
Since her son Erik Snoeck joined the company, other sales opportunities have been actively sought, resulting in a collaboration with Fruitmasters. In addition, her husband Kees Snoeck has for a long time been looking for opportunities to sell more fruit in the region. 'It's less anonymous and more sustainable. It's not just us for the extra cost. It helps to keep in touch with the market ', he explains.
Electrical engineering
Erik Snoeck works three days a week as a freelancer in electrical engineering. 'My parents have always encouraged me to educate myself outside the fruit sector so that I can fall back on another profession if it does not succeed in fruit. I learned the cultivation here at the company itself. I was often found in the orchard at a young age. I would also like to take some courses', he says.
His technical experience comes in handy in the nursery, says Marjori Snoeck. 'When something breaks, we rarely have to call a technician. Kees is a trained carpenter and is also handy. ' He laughs: 'For a fruit company, we have an unusually equipped workshop with all of Erik's tools.'
Selling more fruit here in the region is less anonymous and more sustainable
Kees Snoeck, fruit grower in Schellinkhout

Excellent location
This means that the fourth generation of Snoeck is active in fruit growing. Great-grandfather Remmert Snoeck, descendant of a nursery family, started with fruit in 1908 in Schellinkhout. Also on Dorpsweg, but a few houses away. 'Back then, there were a lot of fruit companies here', by Kees Snoeck. 'It was due to the favorable location here close to Markermeer, which ensures a slightly milder climate.'
After the war, the nursery moved to its current location, where 10 hectares of fruit trees are gradually planted. The company now measures 16 hectares, where some areas are fallow for new planting. 'We can not really expand here,' says the entrepreneur. 'The land here is too expensive if anything becomes vacant at all'.
Optimization
Therefore, the fruit grower is committed to further optimizing the business. Erik Snoeck would like to plant a few more bulbs. "It would allow us to specialize even more and use our machines even more efficiently." His father is more in favor of risk diversification. 'It also ensures that we can distribute the tops of our work a little more evenly.'
Throwing the apples completely is also out of the question for Marjori Snoeck. 'That's what customers come here for in the first place. I do not want to buy apples elsewhere. The charm is that people in the stall buy the fruit grown on the spot. '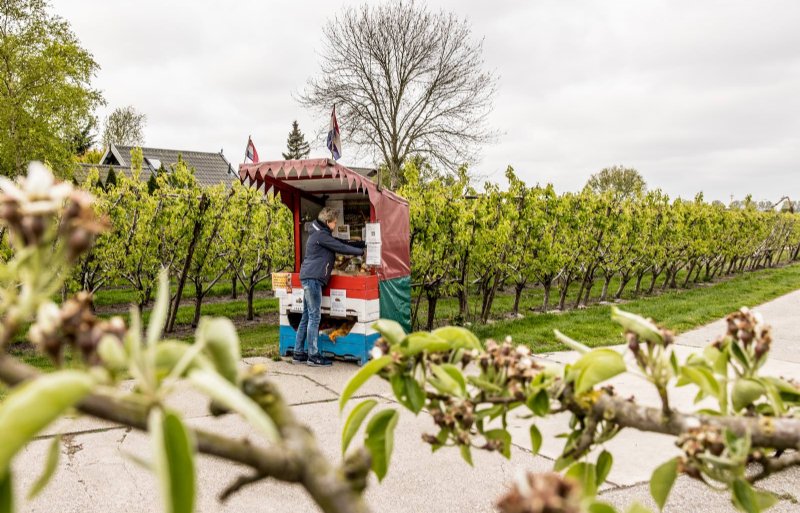 It is precisely these small differences of opinion that keep business operations sharp, says Kees Snoeck. »As a young guest, Erik sometimes has a slightly different view of things. It's only good. Not that we so blindly accept everything from him, but fresh ideas can make us think. And vice versa: by no means is everything from the past obsolete these days. '
Pride
What works well at Snoeck is the close contact with the pickers during the harvest season, as almost all come from the area. Some for over 25 years. "I'm pretty proud of that," says Marjo Snoeck. 'We try to make it as comfortable as possible for them. It's in the little things, like an ice cream in hot weather or a bowl of soup when it's cold. '
Erik Snoeck: 'We work with picking wagons instead of trains. The pickers find this more comfortable because they generate less noise and stench. It requires a little more logistical organization, but I've been doing that since I was fourteen, so we have that competence. '
Hectic
Here, Erik Snoeck has a clear role to play, for whom the harvest season is the most beautiful period of the year. 'I've told my clients from the start that I want to be away for at least a month. With the harvest, we round off a year of hard work. It's sometimes quite hectic, but luckily I'm reasonably stress-resistant. By staying calm and preparing properly for what is needed, we ensure that pickers can do their job as well as possible. '
Marjori Snoeck concludes: 'And a dinner at the end of the harvest. It's creating a bond, and it's fun too. '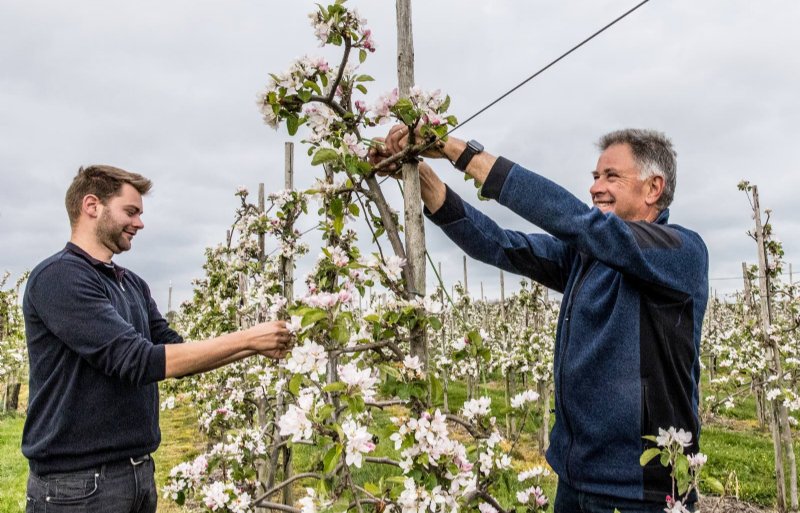 Business information
Kees (62), Marjori (56) and Erik Snoeck (23) have a fruit farm in Schellinkhout in North Holland. The company measures 16 hectares, of which 11 hectares are pears, 3 hectares of apples, 0.5 hectares of cherries and plums and 1.5 hectares of fallow. The fruit from Fruitbedrijf Snoeck goes, among other things, to the marketing cooperative Fruitmasters. The company also sells fruit in a stall on the road. In the autumn, the family works with pickers, almost all of whom come from the local area.