Almost half of the participants in Piwik PRO report
"Four years into the GDPR: How EU companies react to the new challenge of privacy"
are considering replacing their current marketing solutions with EU alternatives
Amsterdam, 30 May 2022 – A new study from Piwik PRO shows that European companies are struggling with the protection of privacy. In the report Four years into GDPR: How EU businesses responded to the new privacy compliance challenge, more than 70 percent of surveyed CEOs and marketing executives say it is important to protect users' online privacy. A large majority (73.5%) also say that respect for users' privacy has a positive impact on their business and that they see it as a business advantage. Still, 63.3% say that complying with all EU privacy rules is a challenge.
It is now four years since the General Data Regulation (GDPR) or 'GDPR' came into force. To mark the occasion, Piwik PRO 260 surveyed CEOs and marketing executives from small, medium and large companies from 27 EU countries, including the Benelux.
"The majority of respondents in our survey consider the protection of user data as both a moral and a legal obligation. Most also believe that respect for privacy and effective marketing can go hand in hand. For just over half of the respondents Acting in accordance with data protection rules also has a positive impact on the business and sees it as a competitive advantage, "says Maciej Zawadzinski, CEO of Piwik PRO.
Given the challenges they face with their current marketing tools, almost half of respondents are considering switching to solutions developed within the EU. The main reasons for this are: customer support (59.8%), price (50%) and GDPR compliance (36.4%).
The introduction of the GDPR is a positive development
It is interesting that the respondents consider the introduction of the GDPR to be a positive development. Three-quarters agree that privacy laws such as the GDPR are necessary in today's world. The main motivations for compliance with the GDPR are to build trust among customers (55.8%) and to act in accordance with the company's values ​​(46.3%). It is striking that the risk of a fine is the reason why only a relatively small proportion of the respondents (27.7%) ensure compliance. Only 7.3% percent say that the GDPR has had a negative impact on their business.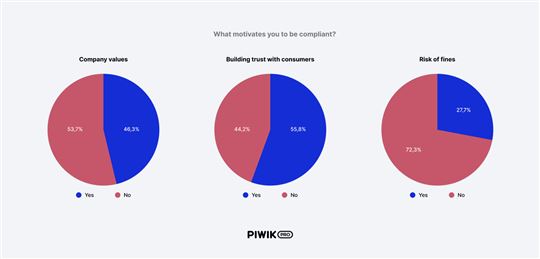 Yet, no more than half of those surveyed also confirmed whether their marketing tools actually comply with all the rules. Of this group, only 49% made subsequent changes based on the results of their audits.
The most commonly used marketing tools among European companies are email marketing software (55.6%), social media (41.4%) and customer relationship management platforms (CRM, 28.4%). Only 14.7% use tools as content management systems (CMS) and only 16.5% use tools to optimize the user experience, such as A / B testing software.
Need more awareness of GDPR rules
When asked about the legal basis for collecting user data in their tools, a majority of respondents answer that they ask permission from users. This applies to content management systems (CMS, 60%), advertising technologies (53.2%), email automation platforms (46.2%), social media (45.8%) and CRMs (37.8%). Notable exceptions include analytics and user experience optimization tools, where 40.6% and 39.5% of respondents, respectively, said they saw a "legitimate interest" in collecting user data.
It is worrying that for 7% (user experience optimization) to 44.6% (CRMs) of the tools, respondents indicated that they "did not know" whether there was a legal basis for collecting and processing user data. This may indicate that companies are not always aware of all GDPR requirements in this area.
The results of the survey also show that most respondents are not aware that much of their user data is stored in the United States. From 62.6% (social media platforms) to 81.4% (email automation tools), participants believe that their tool data is stored in Europe. Only 7% to 16% are said to have their data stored in the US, while this is not clear to respondents for 7% to 22%. This is a worrying finding that indicates that many European companies are not aware of or concerned about their user data being stored by large technology companies in the United States.
The complete report 'Four years into GDPR: How EU businesses responded to the new privacy compliance challenge' can be downloaded here: https://landing.piwik.pro/gdpr-survey-2022/.
This online survey was conducted in April 2022 among 260 CEOs and Marketing Managers of SMEs, active in both B2B and B2C, from 27 EU countries, including the Benelux.
About Piwik PRO
Piwik PRO is a European company with more than 200 customers, including ŠKODA Auto, Crédit Agricole and the European Commission. In the Netherlands, among others, the Dutch government, Anne Frank's House, Candid Group, Swink, Sana Commerce and Iddink Group use Piwik PRO. Private and public organizations use Piwik PRO as a powerful and privacy-compatible analytics software. Piwik PRO Analytics Suite offers flexible data collection and reports as well as consent management, roof management and a customer data platform. For more information, visit https://piwikpro.nl/.
Contacts to the press
Stark Narrative, Piwik PRO Press Desk, email piwikpro@starknarrative.com, +31 (0) 20 794 4735