"Today's business model is not necessarily tomorrow's." BME is the mother of BMN Bouwmaterialen, BMN IJzerwaren and today also Raab Karcher, Galvano and Tegelgroep Nederland. And BME itself is part of Blackstone. Capital fund. The largest private equity fund in the world. But if you think BME is in a hurry to buy revenue, cut back costs and sell things as quickly as possible for as much money as possible, you know better within five minutes of talking to CEO Remco Teulings.
Since the start in November 2019, BME has actually only made cost savings in one country: Switzerland. Market share fell and costs therefore had to go down. But in all other countries and in all other 'operating companies', large investments are being made, says Teulings.
"What I used to spend in three to five years, I now did in two years"
Wrong owner
He himself had worked at CRH Distribution since 2017, when the wholesale group, including BMN, was still a subsidiary of it. "A wonderful company," says Teulings. "Just the wrong owner for a trading company like ours. We were once reasonably important there, but became strategically less important in the years before the takeover. So the acquisition of Blackstone was a good idea. Certainly from BME's perspective to be able to make real profitable growth again in a broad sense with more focus and more willingness to invest. We are trying to develop a platform for accelerated growth. Organic and through acquisitions. We invest heavily in people, in our own network, in the digital and in the ESG history of Environment, Social and Governance in order to better position ourselves in the market in a structured and targeted way. And to achieve profitable growth, not so much in the short term, but more in the medium term. We have never invested so much capex as quickly as in recent years under Blackstone. What I used to spend in three to five years, I now did in two years. " All of these investments have allowed BME to grow and given it a better foundation to grow even faster, the CEO argues.
Growth and acquisitions
BME has grown rapidly since the acquisition of Blackstone, both organically and through acquisitions. Internationally and across all lines, including in new countries that serve as growth platforms for a 'buy-and-build' strategy. Teulings: "In the Netherlands, Jan Boon and his team had already established a very strong foundation with BMN, which we could continue to grow on. When CRH made its exit, we were exactly ready in terms of timing to build on that. " Maybe before? "I think so, but she does not. And that says a lot about the solid, systematic way they work. Our growth has accelerated even faster with the acquisition of Saint-Gobain Distribution Holland, including Raab Karcher, and with a series of acquisitions on the hardware side.It is also such a platform for growth, in addition to what we are doing now and also together with what we are doing now.We see that the whole Dutch landscape – apart from a few major players – is still very much fragmented and we are not yet at full strength everywhere with the right formats. Certainly not in all regions. So we still have opportunities there, such as Nelemans in Brabant. It is a wonderful acquisition, a very strong family business that we "often takes over in the group. In that respect, Saint-Gobain was an exception. Family businesses suit us very well and we have a good basis for putting that type of business next to us. Even Saint-Gobain."
Entrepreneurship and processes
Teulings sees differences between BME and Saint-Gobain and appreciates the complementary qualities from which something beautiful can emerge. "Perhaps we had more strength in entrepreneurship and commercial attitude, while at the same time we get innovation and the process side of the Saint-Gobain group. Together you can build something very beautiful. This can be seen in Saint-Gobain, but also in Nelemans. We look for something like this in every acquisition. Small or large, we buy not only revenue but especially competencies. This can be in digital, pricing, distribution or logistics or any other area. We will take this into account in our assessment of a possible acquisition. "
BME therefore looks much further than the key strategic initiatives in procurement and organizational efficiency, which we repeatedly read in press releases. These are mainly reminiscent of bundling revenue and creating synergies on the back end, thus reducing costs.
Take advantage of the competition
Let's take a look at the acquisitions in the Netherlands. BME becomes a very large market partner, when does Teulings expect to enter the danger zone for ACM? "I can not see into their heads, but we have developed a really good model and are also looking at feasibility. Because the bigger you get, the more likely you are to lose something. Our customers buy from an average of three suppliers. And if we make one of the three, there's a good chance two will be added. The market is very fragmented and the barriers to entry are super low. Everyone can rent a warehouse tomorrow, all suppliers deliver to you anyway, and you can start tomorrow. But we benefit from healthy competition and a healthy distribution of the market. For one thing the market always does, it corrects you as a market partner. "
All in all, BME therefore enters into procedures at ACM with full confidence. "Absolutely. Otherwise we do not go in. The deal is often 'hell or high water', so it is our problem if a deal is later whistled back by the ACM. We never go opportunistically into such a process."
"Taking over TABS also seems a little too far for me"
Strategic growth in wood and hardware
Could BME also still take over TABS? "It seems a little too far for me. In our market model, it seems difficult to make it completely appropriate." And how do you, as BME, make the choice to take over Saint-Gobain Distribution instead of TABS? "We certainly thought of TABS as well, it's a wonderful company." Was it for sale? "Everything is for sale, in the end it's about about the right price and timing, I think. "But why Saint-Gobain?" It could have been both. Saint-Gobain is a bit more of the same and therefore a bit easier to integrate. TABS has its origins in wood and has its 'forte' there. I think our relationship between wood and building materials is exactly the opposite of TABS. Combining the different competencies of wood and building materials creates a lot of added value for the future. With TABS 'tree position, you could grow strategically, just as we do now with hardware. "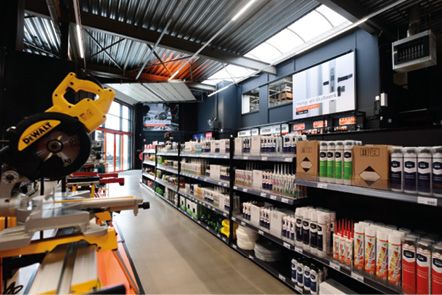 More opportunities than risks
Does BME see other options on the market now than CRH did? "We see a lot more. Compared to CRH, we are more focused on opportunities than risks. And we are willing to take risks to seize the opportunities. See our growth in hardware or the acquisition of Saint-Gobain, CRH would look a little less opportune. We see that in the medium term we can improve our scale, market position and workforce. And our attitude to digital and innovation. In the meantime, we are broadly active in the market and we try to relieve the customer and provide added value so that we can conquer a larger 'share of wallet' from existing customers and win new customers. "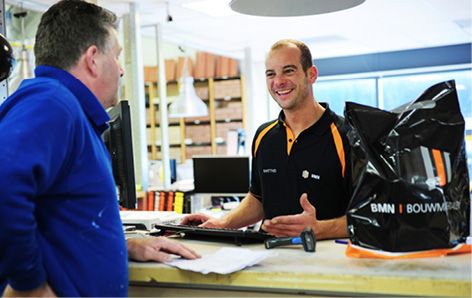 'leads' the market
Is BME therefore also interested in developing and leading the market in digitalisation and sustainability? Or is it just about creating scale and getting rid of the tent as quickly as possible? "On the contrary," says Teulings. "At group level, we have grown digitally from zero to 22 people and many external parties. For example, at the group level, including operating companies such as BMN, we have the scale to roll out initiatives that benefit us at the back and provide convenience to our customers up front. I can tell you that Blackstone had 15 times more budget in the digital business plan than we even had. Especially to spare the customer 'trouble' in his customer journey. "
"Our shareholders do not accept half talk"
Hard commitments
Teulings: "Sustainability is the same thing. It is not a challenge for BME or BMN. Not even from Dura Vermeer or BAM or from Knauf or Wienerberger, but a challenge from the entire industry and the entire chain. We are doing that a little now, but we can go much further to make sustainability land across the organization as 'business as usual'. " Waste reduction, promotion of sustainable products, employee involvement, diversity and health and safety are all topics where steps are being taken within BME.
The challenge lies in the structural approach that makes it measurable and makes continuous progress. Our shareholders want that too. They do not accept half conversations in this area. Sustainability is about one thing. Be transparent about what you are good at and what is not going well. And commit to continuous improvement. "
No cheese slicer
BME seems to save neither on cost nor effort when investing in the organization. "Our cost increase is phenomenal. Scary high," says Teulings. "We have five strategic pillars. Purchasing, Commercial Excellence, Organizational Efficiency, Format, Footprint and the Real-Estate and Supply Chain are mainly focused on back-end operational improvements and organic growth. In fact, we are relatively little cost-based, but primarily aim to create value in advance. So we invest in making the platforms better, so that they resonate better with customers, and we can grow faster. Look at what we do in e-commerce, in the supply chains with our DCs and in terms of greenfields with new branches, because if we can prove to our customers that we are better, thanks to better assortments, better prices, better locations, more locations, skilled employees, etc. ., then you can grow even faster.And these costs have increased exponentially within BME.In only one of our 13 companies have we undergone a cost-saving program.Of course we can save costs through a better digital process, but that's different than putting the cheese slicer over it. "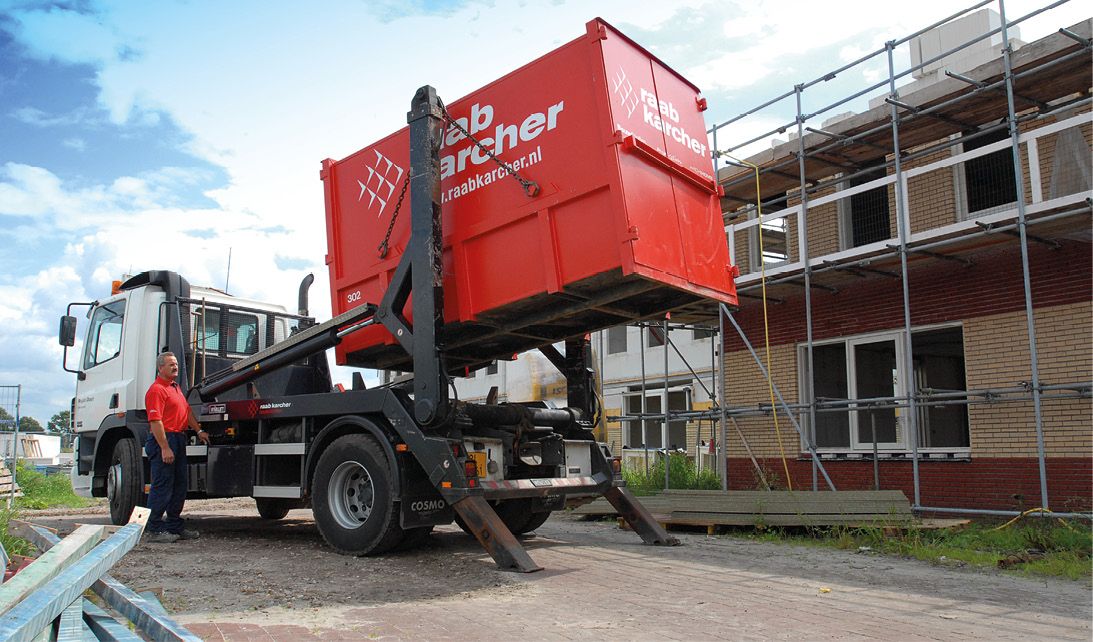 Premium position as a wholesaler
In other sectors, they sometimes turn their noses up at the construction wholesaler. And of all the sectors that Blackstone can invest in, the fund puts its money in BME. How strong is their belief in wholesale? "A lot. Certainly in the long run. Personally, I also see a lot of future as a focal point between all the suppliers on the one hand and all the customers on the other. I always believe in the role of wholesaler. Provided the major players do not focus on today's business model and assumes that it is the model of the future.Because it makes sense that we may not always supply cement and that several things 'fall off the truck'. is correct.
Then again, provided we understand what is happening with some good players in the market – for example with DSG – and invest well, we are in a prime position to proactively define and maintain the wholesaler's role and – in fact – to increase. "