The customer experience is more critical than ever today. A good customer experience (CX) can be the step to make customers love your brand. They grow, so to speak, into ambassadors for the company by delivering valuable word-of-mouth advertising. At the same time, a bad CX can mean the end of the relationship with a customer. Improving the CX should therefore be high on the priority list of technological innovations.
Salesforce recently discussed the challenges companies face and how to address them with a range of masterclasses. One is about creating a 'helpdesk self-service page'. By building such a site, you give your customers more options and a better experience. Thanks to the self-service options, customers can easily arrange things themselves. They will love your brand more.
Status of customer experience and customer demand
If we look at exactly what customers expect today from CX, it is remarkable that they primarily want a hassle-free experience. A 'seamless experience' means that you as a company must strive to appear as one unit. Customers want, if they have contact for customer service and later also contact for sales, that the sales are aware of the previous contact. Otherwise, they have to explain several times, and it's going to seem like employees in the company are not in line with each other.
The customer simply does not care that support is not available due to the end of the work day while he or she is experiencing serious issues. A self-service platform can help achieve a hassle-free experience. A customer expects that he or she can log in to the portal 24 hours a day, 7 days a week with a personal account.
They want to get answers to questions quickly from a portal. Of course, the information must be as up-to-date and accurate as possible. They must also be able to buy products on the platform. That way, you get rid of the old way of working, where each department has separate platforms for arranging cases. Everything is more centrally controlled and connected.
It is also useful if such a platform supports community building. This can be done by giving customers the opportunity to help each other and answer each other's questions. So encourage them to contact each other through technology.
Why do companies not live up to expectations?
While customer expectations are generally clear, it is challenging for many organizations to provide a connected experience. They often have to do with legacy systems that act as islands in the company. Assume that marketing, sales, and customer support use multiple older systems, all of which create data. These systems create their own data, which without integration never ends up in other departments. It is difficult to update and integrate the systems, which hinders a hassle-free experience.
Salesforce Customer 360
Salesforce naturally sees opportunities to elevate the customer experience to a higher level. The Customer 360 model must be the answer to the challenges that companies face. Customer 360 means that a company has a full (360 degrees) overview of a customer's activities. Marketing, sales and customer service activities can be coordinated with each other thanks to a complete overview.
You achieve this by focusing on integration. All customer record systems are connected to Salesforce. Of course the CRM systems in Salesforce itself, but also other parties. After all, there are dozens of customer-related software packages available in a large company. It's a utopia to assume they're all from Salesforce. Salesforce therefore offers the MuleSoft integration platform, which knows the APIs for all commonly used systems. In this way, information can be extracted from the systems and connected to the Salesforce platform.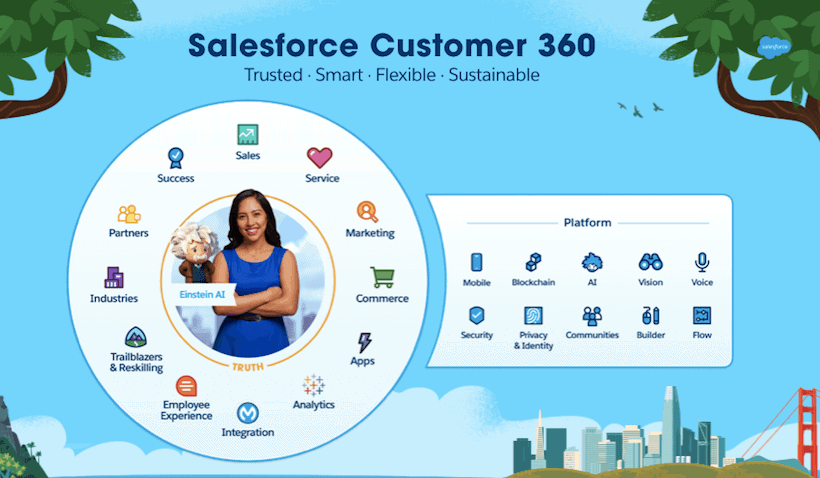 By creating a single source of truth (SSOT), staff are able to deliver a hassle-free experience. In practice, this means for a customer that he or she logs in to the self-service portal to, for example, buy a product or service. Thanks to the integrated approach, the marketing department is aware of these activities. That way, the department knows that it will no longer be sending marketing content after a certain period of time. The customer feels understood and has a personal experience.
Build a community
At Salesforce, the strategy is to launch a targeted cloud solution for a variety of purposes. This is also the case for realizing an optimal CX. With Experience Cloud, it allows companies to create portals, pages and forums with self-service options. Experience Cloud offers out-of-the-box templates and themes to get you started quickly. At the same time, developers can use Experience Cloud to fully customize the websites and portals. They can also fall back on the Salesforce ecosystem. Salesforce partners have built solutions to connect data and configure components.
The Experience Cloud is therefore a place to create and manage CMS content. Salesforce sees a special role in this for the CRM and AI components of the product. With CRM, the company refers to the presence of customer data, according to the Customer 360 principle. AI can again be used to analyze all this data. The CRM and AI components should give processes, apps and data that little bit of extra power to optimize the customer experience on the self-service side.
Focus on CX
Experience Cloud is another cloud product that Salesforce aims to address the challenges. This solution offers drag-and-drop and low-code tools. This allows employees to relatively quickly move on to building software that focuses on the user experience. Content can be delivered in a personal way because data is connected according to the Customer 360 principle and processes are dependent on AI. The idea of ​​a single source of truth should contribute to an enhanced experience.
All in all, companies that do not approach CX in a modern way risk being left behind by competitors. Therefore, it is good to take a look at what your business can do to improve the customer experience. Are you curious about more? This link takes you to the video where Salesforce explains it further.