Axis is known for business cameras that secure business environments. Advances in artificial intelligence (AI) enable cameras to perform enhanced image analysis. Hybrid is the key word here: the analyzes must be performed in the environment where it makes the most sense for the result. Better results can be achieved on the camera itself (the edge), but the cloud and servers are also favorable environments. We discovered more about it in Antwerp, where the Axis Experience Bus stopped to train customers and partners.
In recent years, Axis has invested heavily in transforming its product portfolio. At the bottom are the cameras, which are becoming more and more sensors. For example, an Axis camera can be used for crowd control or license plate recognition. Axis cameras are often used to secure business environments, but smart cities are also becoming increasingly popular. Earlier we wrote about how Axis is transforming from a camera company to an IT company.
If you as a company want to use a camera as a sensor, it is crucial that the camera performs qualitative image analyzes. In that area, Axis has made significant advances in artificial intelligence. Many analyzes can now be performed on the device. In Axis' opinion, however, a hybrid solution is ideal. For the most part, Axis tries to process images on camera, but heavier and further analysis takes place on servers or the cloud. This uses the power of the different environments. Moreover, not all analysis can take place on camera, due to the growing mountain of data to be processed. Large parts will be analyzed externally.
Switch to the edge
With that in mind, Axis last year launched an improved processor. Artpec-8 has more computing power to process images faster. Axis has made the chip itself and thus has control over the processing of images. This is unlike other chips on the market which can be used for multiple processing tasks. Due to the power of the chip, it is no longer necessary to forward any high quality analysis to a server. Previously, servers had to provide the processing power and cooling that a camera simply did not have.
By analyzing images on the camera, the original images are preserved as much as possible. If images were to be forwarded to a server, it would be compressed material. The latency is also low when processing on the camera. Everything can happen much more in real time. Furthermore, image processing on the camera means that the cost and complexity of moving data to the cloud decreases. Less server hardware is required for video surveillance.
In this regard, Axis' hybrid history has a preference for image processing on the camera. In some situations, analytics on your own servers or in the cloud are desirable. Before we get a little closer to that, it's helpful to see how Axis manages to process more on camera.
Deep learning now possible
During the Experience Bus demonstrations, we understood that Artpec-8 is the key to increasingly applying image analysis to the camera. Before Axis cameras had the eighth generation chip, they were primarily dependent on machine learning. With Artpec-8, Axis cameras can now also use deep learning. With Artpec-7 this was possible in some cases in combination with an EdgeTPU. Due to the progression, large trained models can be run on the chip to make complex calculations and to think much more like a human being. For example, deep learning models can be used for object detection and classification.
Older cameras without deep learning support would rely on machine learning. They can then perform tasks such as vehicle recognition, but do not distinguish between the vehicles. Deep learning, for example, sees vehicles as a truck, car or scooter. The deep learning models can make the difference by learning from a much larger mountain of varied data compared to machine learning.
Ultimately, Axis offers three ways to apply deep learning to the camera, two of which are the obvious choice. First, it has developed its own algorithms that can be widely used for more general tasks. Axis' business model is highly partner-driven, so another logical option is to engage a partner for a bespoke application. Finally, a company could choose to support a custom application by building a model. The question is whether you should feel like it because you burden data scientists crowded agendas with building a complex model. The fact is that Axis offers support to get started.
If your company has newer Axis cameras, it will be able to do the deeper analysis. Firmware updates will include the latest Axis software options, such as object recognition or site security.
Last step to success
Computer power and the accompanying ability to perform complex calculations are the core components to perform more and more analyzes on camera. Axis also praises keeping energy consumption under control during the Experience Bus. New processors generally require more computing power, which can lead to more energy needs. Artpec-8 solves this by turning off parts of the processor when not in use. For example, the camera does not heat up as quickly, which used to be a reason to forward analyzes to an external location.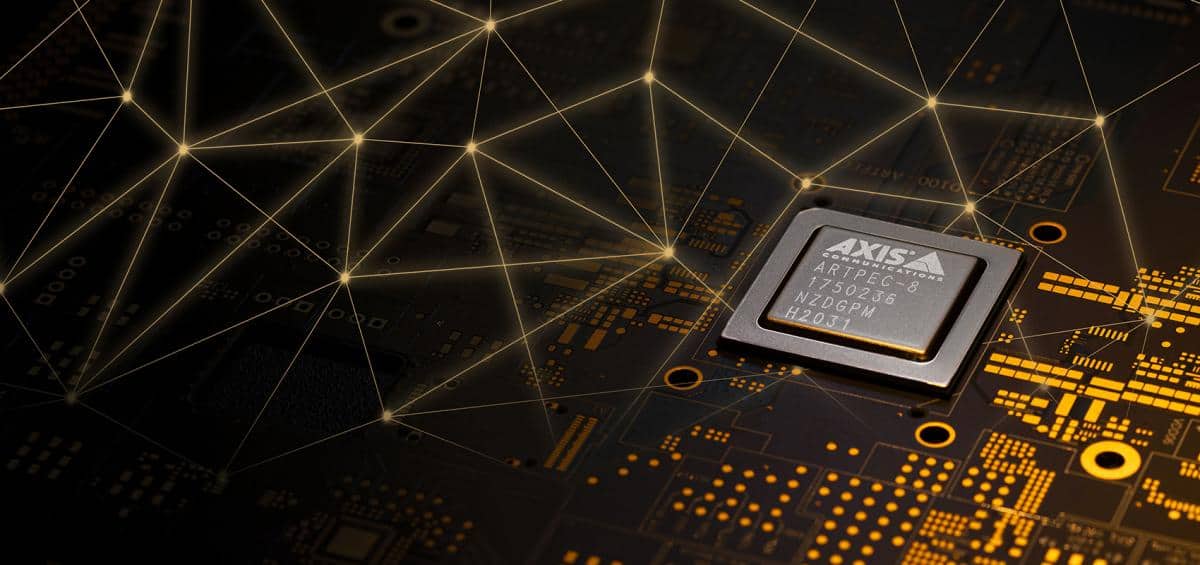 Hybrid is the modern approach
At the same time, Axis is convinced that a hybrid approach is the most valuable. A local server or cloud computing plays a significant role in this. Axis is working with AWS for this. In practice, this means that the first analysis takes place on the camera itself and the second part in the cloud. It can be a motion detection that results in a series of snapshots. Snapshots are automatically forwarded to AWS for reassessment using a deeper image analysis. In this way, a detection can be analyzed very accurately.
Additional analytics in the cloud can be useful to further automate your business monitoring and truly respond to real-time events. This means moving away from the traditional working method of security personnel who constantly monitor screens. This method is mainly reactive, which simply does not work ideally for monitoring. An organization's monitoring system must be designed in such a way that only accurate reports are made. If necessary, the security staff can then perform a manual analysis afterwards.
To move to that world, you as a company need to set up your monitoring systems precisely. An Axis camera can actually send images to a server or cloud with a rule configuration. In this way, an organization uses a hybrid approach, and analysis will be almost completely automated thanks to edge and cloud computing.
All options available
Axis has made great strides lately in bringing AI to cameras. Analytics has always been an important component of the cameras, but thanks to Artpec-8, more is possible on the camera. Further analysis on a local server or in the cloud can provide a more accurate analysis. Your company's monitoring strategy can benefit from this, because everything is more automated and in real time. A hybrid approach to cameras takes security to a higher level.
Axis Experience Bus will be in Culemborg on June 20 & June 21, where AI is also a topic that will be discussed. Are you curious about more? Take a look at the event page.