In the future, LEUSDEN – MAN Truck & Bus will build an eBus chassis that is suitable for all markets worldwide. The chassis is based on the technology from Lion's City E, which is already successful in many European cities and for which MAN has received more than a thousand orders to date. MAN's goal is to promote environmentally friendly mobility and make traffic in cities around the world cleaner, calmer and safer.
E-mobility is conquering the world. Analysts expect that the demand for electric buses will continue to increase in the coming years. By 2040, sales of zero-emission buses are expected to exceed 80 percent of the global market.
"To meet this demand and contribute to sustainable mobility, MAN offers an electric bus solution to international markets outside Europe with the eBus chassis," explains Rudi Kuchta, Head of the Bus Business Unit at MAN Truck & Bus. "With this chassis, we offer bodybuilders around the world a solid foundation for their fully electric models."
For the development and market launch of the eBus chassis, MAN uses the knowledge and expertise built up with Lion's City E. Kuchta: "We also rely on our long-term partnerships and work closely with our worldwide network of bus builders. This also allows us to serve the markets in Asia, Africa, South America, Australia and New Zealand. "The first prototypes of the MAN eBus chassis will be delivered as early as 2023; series production will start in 2024. The chassis will be produced at MAN's Polish factory in Starachowice, where Lion's City E is also produced.
Flexible solutions and proven technology
MAN will first offer the eBus chassis as a two-axle version for use as a low-floor, low-entry and intercity bus. Components for the eBus chassis are based on the technology from Lion's City E – in particular the electric central motor on the rear axle and the battery technology from the Volkswagen Group. MAN takes battery technology a step further in meeting the sometimes very different requirements of international bus companies in terms of daily range, total mileage and cost. In addition to the NMC (lithium-nickel-manganese-cobalt-battery) technology, which MAN also uses in Lion's City E, lithium-ferrophosphate battery (LFP) technology is also used.
NewMAN strategy: important step towards the future
The introduction of the eBus chassis is another important and consistent step for MAN Truck & Bus towards the NewMAN strategy – and thus towards the future. The goal is to play a key role in shaping tomorrow's mobility. "We are clearly focusing on CO2-free driving, which is a core element of our strategy," reports Rudi Kuchta. "We are switching from low-emission to emission-free. To achieve this, we are completely dependent on electric mobility in the bus segment for public transport with Løvens By E. "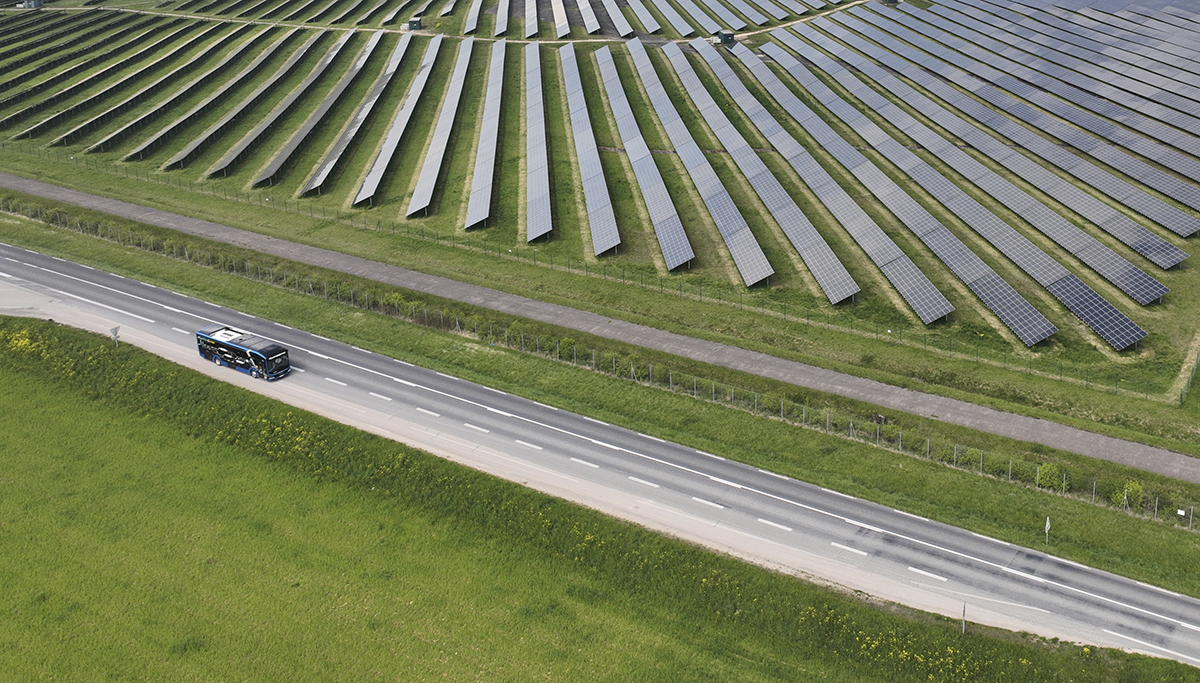 MAN Truck & Bus does this successfully: The fully electric bus for public transport is now in use in many European cities. Whether it is in Barcelona, ​​Hamburg, Copenhagen, Malmö or Zurich – Løvens By E proves day after day how useful it is in city traffic and how easily it can be integrated into existing bus lines.
Since the sale of Løvens By E started, MAN Truck & Bus has already signed around a thousand contracts for the delivery of the electric buses. The new eBus chassis will now also make an important contribution to promoting sustainable mobility outside Europe. At MAN, we are committed to achieving Paris' climate goals. For us, social responsibility for environmentally friendly mobility certainly does not stop at European borders, "said Kuchta.