DALLE 2
Sander started about the search for what artificial intelligence actually does with our reality, with us as a person, with our identity. He showed how DALLE 2 works. DALLE 2 is a new AI system that can create realistic images and art based on natural language descriptions.
Queen Elizabeth with Paddington (a bear from a movie) and she saw that hologram in a carriage through the streets of London was cheered by a crowd. Sander continued his story with another form of deepfake that was shown during the auditions in the episode of America's Got Talent.
Participants were technicians Tom Graham and Chris Ume, who presented their AI technology known as Metaphysic. To show it off, they brought forward 2018 finalist Daniel Emmet, and what happened next was eerie. Using a camera, Emmet was able to transform into a deep-fact version of Judge Simon Cowell. The technology made it seem like Cowell was singing Chicago's "You're My Inspiration".
And of course, the world-famous band ABBA came along. And not the four Swedish singers themselves, but holograms depicting what they looked like in their most successful years. And you just saw fans bubbling along and participating with holograms.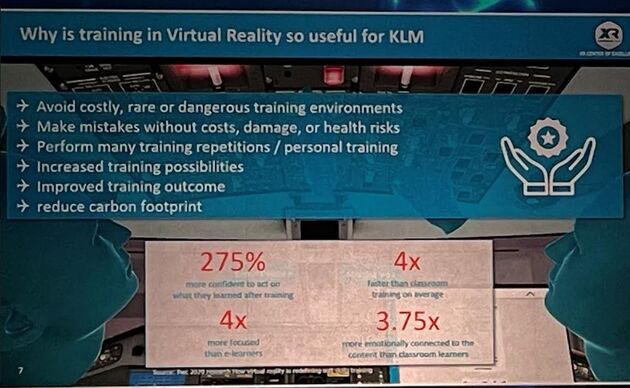 Artificial intelligence
According to Sander, it might have been positive, funny elements of AI / deepfake, etc. But it was also about fake news with examples of Trump. Russia's invasion of Ukraine (watch live with a ticking movie of a Russian soldier who turned out to be fake). What is real, what is reality? And the influence of, for example, Tiktok on the trial between Johnny Depp and Amber Heard.
Here we will briefly summarize what the following speakers have said, and that is really our message. Do not miss these VINT events. You always learn something from it, and we are already looking forward to the next performance.
Floris Alkemade worked for many years as an architect for the architectural firm Rem Koolhaas. Later he started his own agency. Won a prestigious work award this year and was named architect of the year in 2018. He became known to the general public from Zomergasten.
His story began with the past. We have evolved from a production company to a consumption and from the real to a virtual world.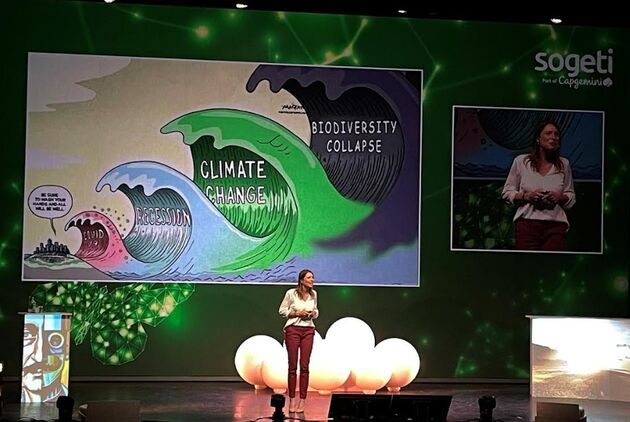 Staring at your screen
Floris showed a number of studies. In the United States, the average American spends 640 minutes out of 1000 minutes a day using a monitor (TV, tablet, smartphone). For example, there are 400 different types of immersion blenders available on bol.com. In its heyday, Alibaba.com sold 583,000 products per second! We live in a lazy animal country! We have landed in an earthly paradise with flash delivery.
Yvette Watson is a sustainable entrepreneur. With the company PHI Factory, she supports organizations in realizing their sustainable and circular ambitions and challenges the market partners to the maximum to realize real system change. She also has the gamified learning platform, The 2B Collective. The Community tool to enable large groups of people to think and act sustainably. With this, she wants to create real scale to realize the sustainable transformation of society.
Yvette said that during the production process of a brand new laptop, so much poison is released that it takes as many as 2,000 swimming pools of water to dilute this poison so that it can be neutralized.
She spoke proudly about BlueCity. The pioneers of the circular economy gather in the former Tropicana. Since 2015, BlueCity has evolved from an empty swimming pool to the hub of the circular economy of the city and region.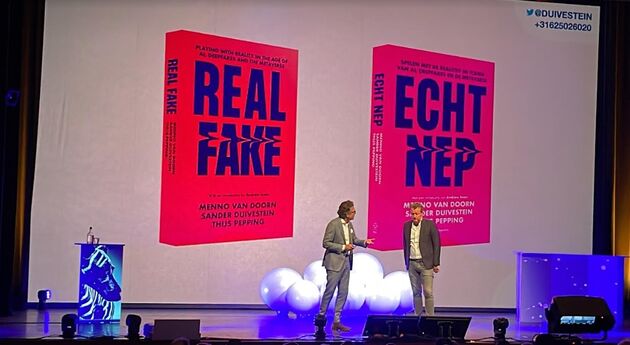 Virtual reality
Werner Soeteman from KLM talked about Virtual Reality. For a long time, KLM has been researching what Virtual Reality can mean for employee training. For example, VR is already being used by KLM for the training of maintenance technicians and KLM Cityhopper cabin crew. In any environment that is difficult to simulate, or any material that is expensive or risky to use, KLM expects to experiment with VR. The training results are also positive. Key figures:
275% more confident to act on what they have learned after training
4 times faster than class training
4 times more focused than e-teachers
3.75 times more emotionally connected to the content than classroom instruction
Werner Soeteman also said that VR not only looks at the employer journey, but also at the customer journey. Of course, it is important and desirable from KLM that people continue to fly, but if you are no longer able to fly due to financial reasons or physical limitations, KLM can create a metavers experience for this in the future. They have already shown this in an experiment.
KLM is not doing much with AR yet. They want a full flight simulator with a static cockpit. Such that the pilot presses real buttons, but the training takes place with AR.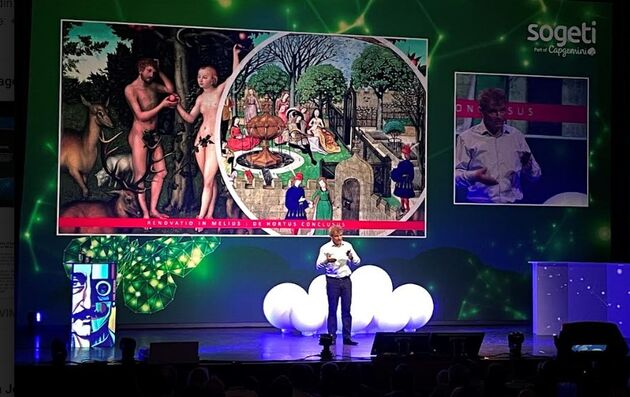 3D technology
Sezer Karaoglu is the co-founder and CTO of 3DUniversum, a technological spin-off of UvA that delivers state-of-the-art artificial intelligence solutions.
In his lecture, Sezer Karaoglu gave an in-depth explanation of the use of 3D technology for the popular deepfake creation. He showed the results of such a deepfake creation (https://fairfake.ai). Surprisingly, however, his company developed a positive use of deepfake technology for an online therapy that supports people with trauma, anxiety and grief problems (www.deeptherapy.ai).
In the second part of the lecture, Sezer Karaoglu talked about the new 3D technology and its potential to disrupt various markets. He gave a live demo of mobile 3D scanning on stage and demonstrated how cheap 3D scanning solutions can be used in various applications for metaverse, AR \ VR, mixed reality, synthetic media, virtual tours, virtual customization, online sizing recommendations, visual inspection, etc. .
Zoe Scaman is a creative brand strategist, innovator, but above all a person who is at the forefront of the very latest digital developments, such as nft's, metaverse, fandoms and the TikTok classification of society. She has worked for major brands such as Pepsi and Netflix, as well as for top NBA players. Zoe is unorthodox in her ideas and approach and runs her own creative studio 'Bodacious' (bold).
She talked about the differences between influencers and creators. Influencers build followers by living artfully curated lives, transforming themselves into a tasty canvas to capture the attention of relevant brands that can easily blend into their world of conscious, processed, polished perfection.
The creators lean on their own talents or a specific topic and create content that is entertaining, educational, or engaging enough to develop a strong and close-knit community that they, in turn, can use in countless ways to turn their followers into financiers. – via step-by-step access, merch lines, product spin-offs, virtual drops and more. New brands are created using micro-niche communities.
creators
Simply put, one markets their audience through brands, the other markets their audience directly. One has to woo brands to make a living, while the other is more than capable of making itself a full-fledged brand.
The challenge for brands is to quickly figure out how to work in a room where the people they used to spend a few thousand dollars to hold a can or wear a t-shirt or apply a new cream. prices, now potentially are their competitors starting their own beverage brands, their own streetwear labels and their own skin care lines.
She talked about Token Gated Commerce and how well Shopify is responding to this. She also believes that Tiktok will be a really important player and we also had to keep an eye on Discord. As a brand, do not even advertise on Discord. How do you reach your target audience as a brand? It needs brands to think about. Creators now have the power to request a revenue share. They are sitting right at the negotiating table. Scaman believes that AR in particular will be used by the majority of people to create an overlay over reality for more information, etc. With reference to companies like Snap, Nvidia and Niantic.
There were several speakers and I really recommend everyone to keep an eye out for the next VINT symposium.
We are in an era of many changes that are rapidly coming together and that have and will have a major impact on our lives. I read an article about an AI tool that allows you to receive quotes based on your text. What impact will this have on science? Lecturer Bart Wernaart van professorship Moral Design Strategy from Fontys talked about false science becoming a real problem. Another colleague said, "we are already in the midst of false science, worse still, we are with people who only assume things if it suits their own observation of reality"
I am personally hesitant and eagerly await what else will come to us regarding technological change, the effect of social media on polarization, fake news, fake science and how we, for example, education can prepare our young, students for this. Can we prepare young people for a future that we do not know how it will develop?
Erdinc Sacan

Senior Lecturer ICT & Business, Coordinator Minor Digital Marketing @ Fontys Hogescholen Eindhoven. Has previously worked at Corendon, TradeDoubler and Prijs …