Online ads are important for gaining market share in your online sales. But you can also use such ads to stimulate your offline sales. Learn how to use Google Ads to stimulate both online and offline traffic and to really work omnichannel.

During the corona period, physical stores have had a very difficult time. The number of visitors decreased, among other things due to lockdowns, and thus also the turnover. This was somewhat offset by a growth in the number of online orders. The latest trend reports show that the opposite is happening now: Online sales are falling, while physical stores have never been so busy. As a reseller, it is important to set up your online campaigns in such a way that you follow this trend, this allows you to continue to grow as much as possible. This article looks at how to optimize a Google Ads campaign for both offline and online earnings.
Why focus on offline sales?
Customers who buy in a physical store are more valuable than customers who buy online for the following reasons, among others:
The average order value is higher
The rate of return is lower
Customers are more satisfied with their purchases
It is much harder to give good advice about the right product online than in a physical store. You also buy online based on photos or videos, but you can not grasp the product.
Since Google Ads campaigns are almost completely automated these days. Is it even more important that you include offline revenue in the optimization? Machine learning from Google Ads only controls the input you provide to the system. If you optimize Google Ads for online earnings, your campaigns will try to maximize it, completely ignoring your offline revenue. The consequence of this is that fewer and fewer bids are placed on visitors to the website, who ultimately make their purchase in a physical store. But how can you ensure that Google Ads optimizes for online and offline sales?
Measuring offline sales
Within Google Ads, there are two different ways to measure your offline sales. This can be done by:
Which option is best suited depends on whether a store visit is by appointment or without an appointment. The rest of this article goes into more detail about both options.
Store visit
Google Ads can measure store visits if you meet the following criteria:
An active address extension
Enough clicks and impressions
Adequate store visit
If the above is the case, a conversion action called 'store visit' will automatically appear in Google Ads. If you have too little data for this, a conversion goal such as a visit to a location page or click out to Google Maps a good alternative.
Then it is important to add a fixed turnover value to this new conversion action. You can calculate this for store visits as follows:
Store Visit Value = Average Store Conversion Rate × Average Store Order Value
If completed, Google Ads will allocate this amount for each click that results in a store visit.
Offline conversion import
The moment you as a retailer make store visits in whole or in part by appointment, then offline conversion import an appropriate option. It goes like this:
A visitor to the website enters his e-mail address and / or telephone number and makes an appointment.
You process this data in your CRM, where the GCLID is collected (you can also do this with your email address and telephone number). improved conversions for leads is used and the GCLID is not required).
After the lead visit, you adjust the lead status if there has been a sale and you add the value at the same time.
You link this information, preferably automatically, back to Google Ads (this is possible up to 90 days after the first click).
This ensures that revenue is pushed back to Google Ads. But how do you ensure that a bidding strategy takes this into account in optimization?
Optimization for online and offline sales

After making store visits measurable or using offline conversion import, it is important that the bidding strategy also optimizes for this. You can adjust this as follows:
Store visits – Create a conversion set that combines online sales and store visits.
Offline conversion import – Create a conversion set where you combine online sales and a completed lead form.
The final step is to select this conversion set as a campaign-level goal. Once you do this, the Google Ads bidding strategy will optimize for both online and offline revenue. Next, it is important that consumers know that you also have a physical store.
Highlight your store in ads and on the website
Based on an omnichannel approach, you want to support the consumer in the briefing and buying process, regardless of which channel a consumer chooses. From Google Ads campaigns, it is advisable to make the store known in the following ways:
Ads – Creates awareness of the store in ads.
Website – Displays the store prominently on the website.
You can make your store stand out in ads as follows:
Name your store in headings and description lines.
Add an address extension (required to measure store visits).
Use other extension forms to highlight your store, such as a site link and highlight extensions.
use local warehouse ads in Google Shopping.

That way, no consumer can miss out on having a store where they can come for advice or buy a product.
In addition to naming the store in an ad, it is important that this item appears on the website as equivalent to an online order. Consider the following options:
An extra 'pick up in store' button on a product detail page (also necessary for locals stock ads†
A link to the store page in the main navigation and / or footer
An additional mention of the store on the website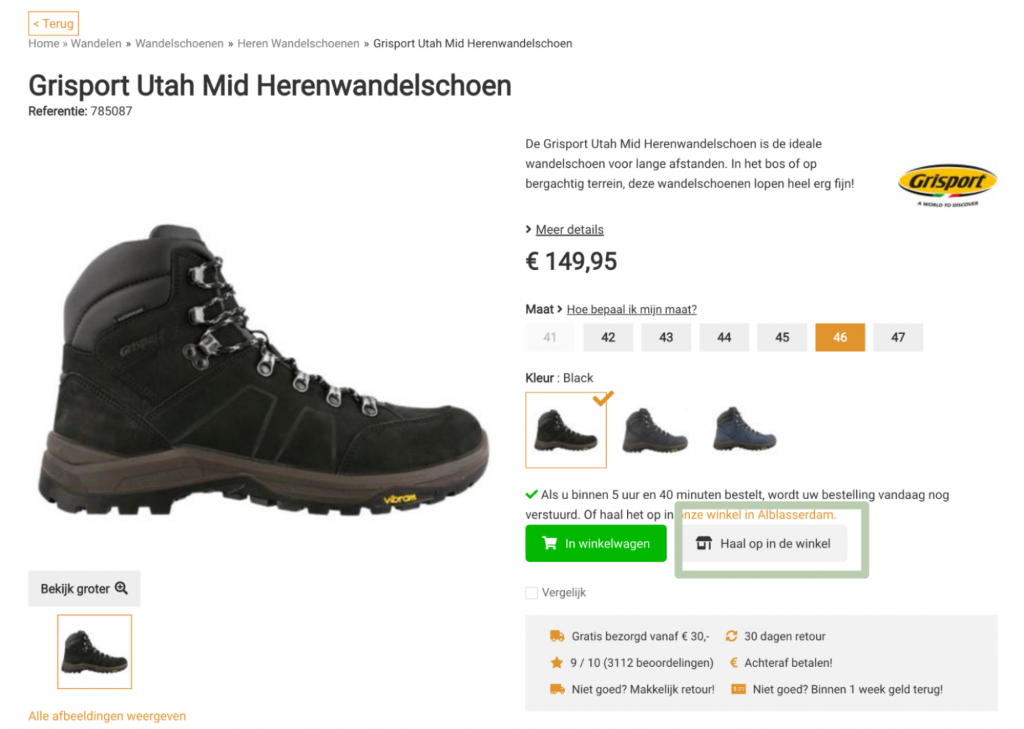 In this way, you give the consumer the choice of where he or she prefers to buy the product, in the store or in the webshop.
The effect of an omnichannel Google Ads approach
At our customer Antilope Outdoor, the specialist in outdoor clothing and shoes, we have started such an omnichannel approach since August 2020. In several steps (all mentioned in this article) we have been paying more attention to the physical store, with the result that offline Google Ads revenue has grown steadily and campaigns are adapting to the dynamic retail world. For example, due to the changed consumer behavior, we are seeing a steady increase in store visits this year, while online revenue is slowly declining.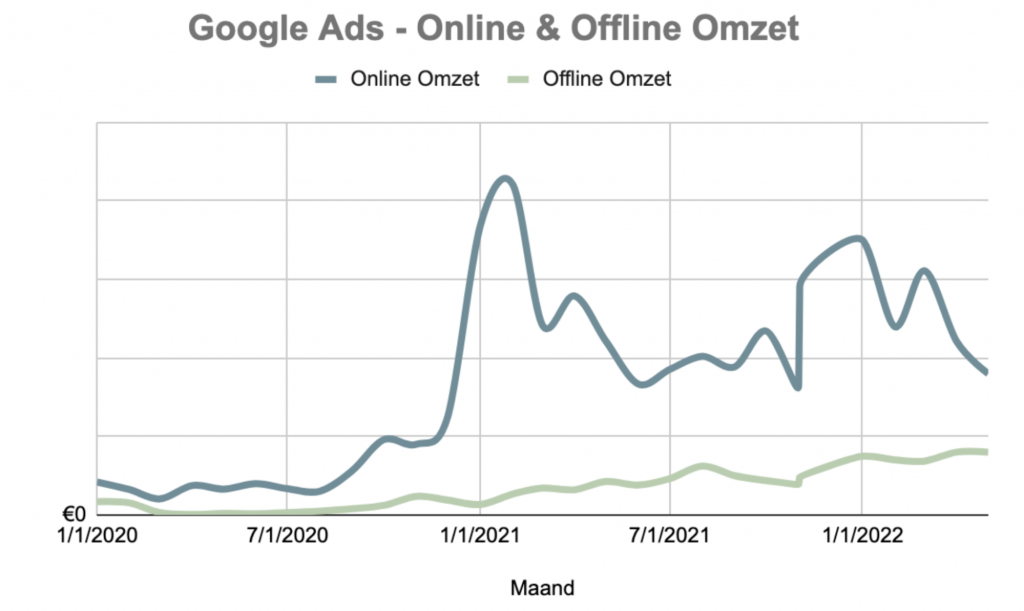 The popularity of physical stores has been rising in recent months and that is at the expense of webshops. This provides opportunities for companies that (still) have a physical store in addition to a webshop. To take advantage of these opportunities, it's important to optimize your ad campaigns, such as a Google Ads campaign, for both online and offline revenue. In this way, you ensure that your campaigns become so dynamic that they adapt to changing consumer behavior.
About the Author: Jeroen Witteman is a CRO & Digital Advertising Specialist at PureDigital.
Do you want to stay informed about the latest news in your field? Follow Emerce on social: LinkedIn, Twitter and Facebook.