'Plant feed based on microalgae sounded like hocus pocus to me,' says Elly Bak, co-owner of Corn. Baked in Assendelft. The company specializes in breeding, propagating and supplying bromeliads and other tropical potted plants. 'But we wanted to test whether it would make our plants more vital.'
Bak explains that Zaanstad municipality a few years ago introduced her to a director of Algae Innovations from Zeewolde, who was looking for applications for microalgae in horticulture.
Bak: 'We have been working with biological pesticides in our company since 1980 and always work on sustainability. We like to try new things and have always tried to free up a budget for this and use subsidies. '
The plants absorb the nutrients much more efficiently than those from the control group
Eline de Vos, scientist Corn. Container

To guide research into new cultivation methods, Corn. Bake two scientists on duty. One of them is Eline de Vos, who mainly deals with fertilization. 'You do not want to know how many providers are knocking on our door with new resources that usually do not live up to their promises. I was also skeptical about using micro weeds as plant food. '
De Vos was therefore surprised when experiments with Algae Innovations' microalgae in different types of bromeliads gave positive results. The leaves of plants that received half microalgae and half fertilizer were greener and less spotted than in plants that had used only fertilizer. The plants were also 15 percent heavier than those from the control group.
"We were happy to see that the microalgae, the microorganisms themselves, stimulate the life of the soil and make the roots more active," says De Vos. "Still, it was difficult to keep the balance with the bromeliads, because they are very slow-growing plants. Therefore, we continued the experiments with our dionaea. ' She explains that these carnivorous plants originally grow under nutrient-poor conditions and require little.
Fertilizer free
corn. Bak has now for three years carried out experiments to grow the dionaea completely fertilizer-free. The first experiment involved two hundred plants, then there were two thousand and now there are already thirty thousand plants.
"We manage the microalgae via a ebb and flow system from a 1,000-liter barrel," says De Vos. 'Then oxygen and light allow them to do their job. Laboratory analyzes show that the plants absorb the nutrients much more efficiently than those from the control group. And we see that the carnivorous trap is one and a half times as big. '
According to Bak, this would be a turning point in Corn's business. Can be baking. 'This patented type of microalgae comes from an inexhaustible source in an outdoor pool in Zeewolde. We would like to use them as an alternative to NPK fertilizers, because according to experts, components of them, such as phosphorus, are running out. '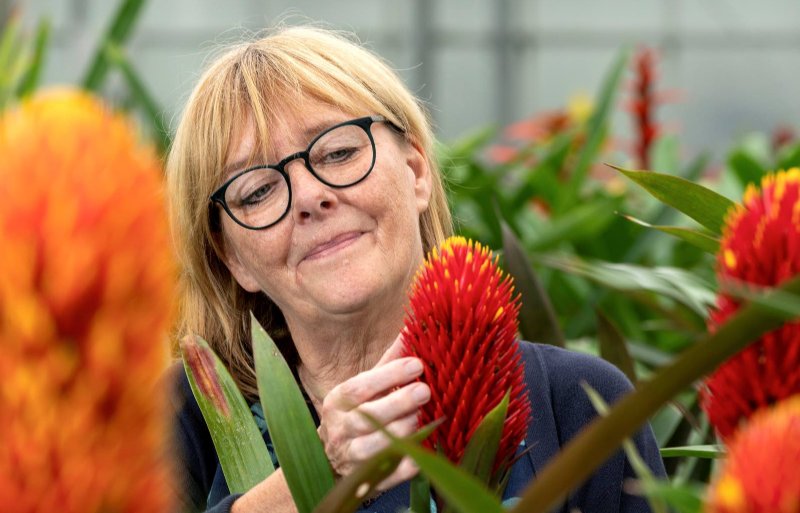 Bak and her brother Peter form the leadership of Corn. Bak, which was founded in 1929 by her grandfather Cornelis Bak. He started growing tulips, lilies, summer flowers, field vegetables and potted plants in a self-built greenhouse. In 1956, Vriesea splendens was the first bromeliad in the range.
Jacob Bak, second generation, increasingly focused on breeding and selling young bromeliad plants, such as Guzmania minor, Aechmea fasciata, Neoregelia carolinae, Tillandsia flabellata and Tillandsia leiboldiana. Third generation has expanded the range with different varieties of Medinilla florinilla and Medinilla magnifica and the carnivorous plants Nepenthes, Dionaea, Drosera and Sarracenia.
Chicken breeding
'My father was a real plant man who liked to cross plants. But in the sixties there was no knowledge and no money. That is why he started working with cacti, bromeliads and orchids from a booklet on chicken breeding ', says Bak. 'A breeding process can take fifteen years, but in the end, greenhouse cultivation proved to be more profitable than outdoor cultivation, and he continued with the bromeliads.'
Bak himself has worked in the company for 27 years. She is involved in breeding, variety development, planning and human resources, while her brother is responsible for finance and cultivation.
De Vos supports Peter Bak with cultivation advice. "During my biology studies at Wageningen University & Research, I specialized in entomology and insect science, where I researched the relationship between crops, pests and biological pesticides," says the scientist.
Practical research
'For example, an infested plant attracts the real biological enemy at a distance by secreting specific odorants', De Vos continues. 'Such findings later contributed enormously to biological crop protection. But practical research in business attracted me more than in-depth scientific research. '
After graduating in 1998, De Vos joined Corn. Bake properly. 'I've always loved plants, and a whole new world opened up for me in nursery.'
Medical effect
In addition to the experiments with the microalgae, the nursery is also working on other innovations, such as research into ingredients from bromeliads with medicinal effect. 'We expect nature to give us the key to better health,' says Bak.
'We've been working on a pull-out library for ten years now. But if you want to take steps in the application, you run into a dragon of legislation and a very sticky process. ' The only concrete result so far is the herbal tea, which Corn. Bak under the name Theelers in 2021, which contains bromeliad. The tea was released along with laurel horticulture Gova, herb nursery De Kruidenaer and nursery for peppers and peppers Westlandpeppers.
Another innovation is the layering of bromeliads under LED lights. "We're working on our own semi-practical scale recipe in two cells," Bak says. 'It is a completely closed cultivation on a smaller surface, where you can adapt the climate yourself. It makes it easier for us to plan our employees, which is increasingly difficult to find. '
Employees
The nursery employs 73 people and about seven temps during the season. In addition, works at Corn. Bake twelve people with a distance to the labor market through the social development company Pantar in Amsterdam.
The company produces about 18 million plants a year, of which 70 percent are bromeliads, 25 percent are carnivorous plants and 5 percent are other products. The most important customers are breeders all over the world. "We export a lot, including to the United States, Mexico, Brazil, China and Japan," says Bak.
"Exports have already become difficult due to the increased transport costs, but with the high gas prices we are reconsidering how we will continue with our business. We have put our expansion plans behind us for the time being ', the entrepreneur continues.
Two hundred solar panels
Bak is happy that Corn. Bak can get 30 percent of its heat from the nearby waste company Afvalzorg, and that they have two hundred solar panels on the shed. 'And Zaanstad municipality wants to extract heat from hydrogen in the long term. But we especially hope that the government will help in the short term. After all, horticulture is the largest exporter of Holland BV. '
The entrepreneur says that many families are dependent on her business. 'Last week we had two forty year anniversaries, Bak is really a' way of life '. People stay here for a long time and it often feels like we are one big family. '
Business information
Name: Elly Bak and Eline de VosPlace of residence: AssendelftCompany: corn. ContainerSize: 3.5 hectares Maize. Bak has bred thousands of species of tropical plants over time. Of these, there are now about 62 on the market, with about a hundred breeders worldwide under contract. Maize reproduces the most. Roast from seed, occasionally this is done via tissue culture.