In Germany, you can travel this summer for 9 euros per month with regional public transport. Innovation Origins takes the opportunity to visit a number of future projects. In this episode we travel to Magdeburg.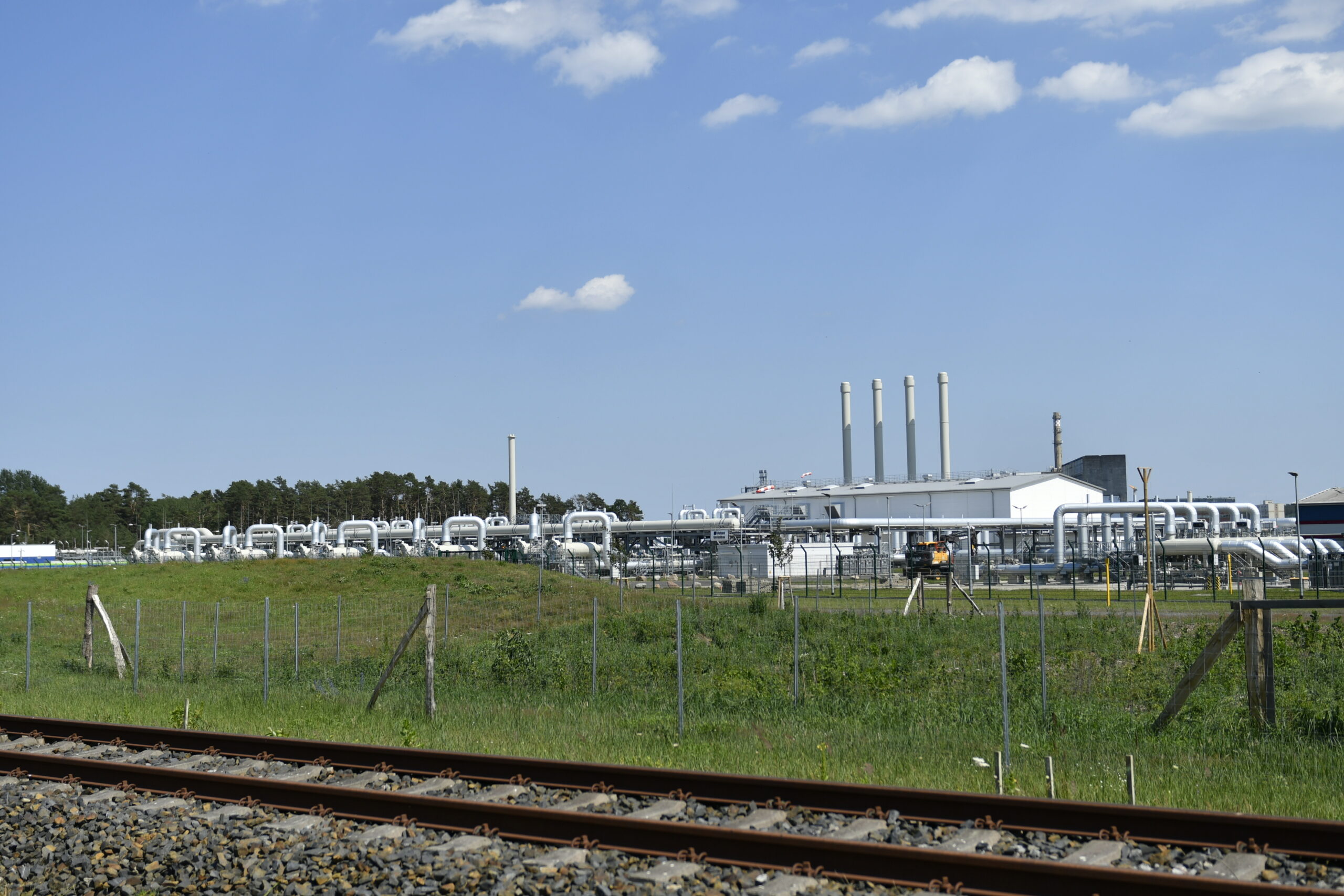 On the way with the 9 euro ticket. Part 3: In the footsteps of Nord Stream and Wernher von Braun
In Germany, you can travel this summer for 9 euros per month with regional public transport. Innovation Origins seizes the opportunity … Continued
Magdeburg is not exactly a thriving economic and tourist center. The jewel of this Hanseatic city between Berlin and Hanover is the "Magdeburger Dom", which towers over everything with its dark towers. There are a few nice statues here and there in the city, there is a lot of green and the view over the Elbe is beautiful. But then you got it.
The state capital of Saxony-Anhalt is most famous for the tomb under the cathedral. There lies Otto the Great, the first emperor of the Holy Roman Empire, who was crowned by a Pope (John XII) in 962.
The tomb shows how important Magdeburg once was. Ideally situated on the rivers Elbe and Havel, it was a European trading center for centuries. It was the hometown of some famous personalities such as Adelbert Delbrück (the founder of Deutsche Bank) and the composer Georg Philipp Telemann. But little of that wealth is still visible because the city was largely destroyed during World War II.
The judgment, the tomb, parts of the old city wall and a statue from 1240 of the black saint Mauritius are some rare reminders of Magdeburg's heyday.
To get an impression of what the city must have looked like in the past, it is now better to visit smaller towns nearby, such as Brandenburg an der Havel (also heavily bombed, but more on those edges) and Naumburg.
Smoking after GDR
Yet Magdeburg was still a household name after the Second World War, not because of its beauty, but because of the machine building which has a long tradition in the city. During the GDR years, Magdeburg was nicknamed "Stadt des Schwermaschinenbaus" for a reason.
But after the fall of the Wall in 1989, the big breakthrough came. "Schwermaschinenbau-Kombinat "Ernst-Thälmann (SKET)" with 30,000 employees was largely lost. Only a few smaller companies remained. Nowadays in Magdeburg, for example, parts for wind turbines are manufactured.
But Magdeburg does not appear at the top of German "industrial standards", which is also reflected in the number of inhabitants. In 1940, the city had 346,000 inhabitants. By 1989 it had fallen to 290,000. Now only 236,000 remain, putting Magdeburg outside the German top 30 and within Saxony-Anhalt having to compete with Halle 90 kilometers to the south.
Minister Schulze sees a new era dawning
"But better times are coming," said Economy Minister Sven Schulze during a visit to his office just off the main train station.
Schulze points out that the population decline has already stopped a few years ago. With the "Otto von Guericke University" and the "Hochschule Magdeburg-Stendal" (H2), the city also has two educational institutions of international status.
17 billion from Intel
But Schulze has much bigger dreams than those of a cozy student town. He believes that Magdeburg can grow into a center for the European semiconductor industry. There is already a name: Silicon Junction, which of course refers to the American counterpart in California. The big catalyst is the American chip giant Intel.
A few months ago, the papers were signed for the largest ever foreign investment in Germany. Intel is going to put the sweet sum of 17 billion euros into production facilities on the outskirts of the city. By comparison, the car manufacturer Tesla's "gigafactory" in Grünheide near Berlin has cost around 4 billion euros.
There is not much to see on the 450 hectare site (675 football pitches). "Eulenberg is still a field of tubers", says Schulze, "but believe that it will become one of the most modern business parks in Germany with not only Intel as a tenant, but also other technology companies".
Dublin
The good example is Leixlip, a village just outside Dublin, where Intel settled in 1989. The Irish government lured Intel with millions of Irish pounds, but got a lot in return. The Americans have since invested 18 billion euros in several factories, with another 12 billion euros planned.
The next factory is already under construction in the "Collinstown Industrial Park", where Intel will employ 4,500 people. The formerly poor farming town of Leixlip can now compete with the best neighborhoods of Paris or London in terms of house prices.
Construction will start next year
This is how Schulze would like to see it in Magdeburg. Construction of the factory will start next year, and the first "wafers" (the sheets with the chips) will roll off the production line in 2026 or 2027.
It is likely that there will also be machines from Dutch ASML at Intel. It is expected that the latest generation of the so-called ultraviolet lithography technology (High-NA EUV) will be used in Magdeburg, which requires ASML machines.
An ASML machine costs about $270 million. It is a technique that Intel has so far missed, but the Americans will make up for it in the coming years. Magdeburg and Ireland will play a major role here, but there are also planned investments in France, Italy, Spain and Poland.
Billion dollar grant
None of this is possible without grants. Schulze does not want to mention an amount, but in German media you can read that the sum in Magdeburg is just under 7 billion euros.
This still requires the green light from Brussels, but according to Schulze it is a formality, because the EU Commission also desperately wants to see the chip industry grow and has created the so-called "European Chips Act" for that purpose.
The purpose of these rules is to make Europe more independent from Asian and American chip companies with the help of tens of billions in state aid.
Shortage in the labor market
Schulze is well aware that there is still a lot of work to be done. Magdeburg's location is excellent in itself, in the heart of Germany, just off the A2 from Oberhausen to Berlin. But the infrastructure could be better.
This does not only apply to the roads, train, tram and bus connections. There is also a need for more and more modern housing. Magdeburg has gained a few nice new neighborhoods in recent years, including along the Elbe, but that is not enough.
During the construction phase of the Intel factories alone, around 7,000 employees are expected, all of whom will have to live somewhere. Intel will employ approximately 3,000 employees from 2027. "And there may be even more in the coming years," Schulze believes. He also expects, as mentioned, that Intel will have a magnetic effect on other companies: from catering to industrial suppliers. Also those people want to live and recreate.
Shortage in the labor market
Thousands of additional jobs. But where do all those people come from?
Labor market experts expect that finding enough labor will be a tough job. Nor is Magdeburg the only East German city where billions are being invested in technological facilities. Consider the aforementioned Tesla near Berlin, Bosch has built a chip factory in Dresden and several battery factories are planned, including a very large one in Erfurt (CATL) and one for recycling (BASF) in Schwarzheide (60 kilometers from Dresden).
Schulze puts his cards first on people in the immediate vicinity. "70% of the students at our university and college still attend when they finish their education. It should and can be done better."
Intel is also betting on the presence of a number of other universities and research centers in the region. According to Christin Eisenschmid, Intel's Germany manager, there are seven institutions within a radius of 100 kilometers, she said earlier this year.
The project team has its hands full
According to Schulze, several officials in the ministry are currently working full-time to manage the project.
Chances
Norbert Doktor, spokesperson for Højskole H2, sees great opportunities for regional educational and research institutions with the chip giant's arrival, but it will undoubtedly come with challenges.
On the positive side, there are already many technical training courses offered that meet the needs of Intel and its suppliers. But that doesn't mean more needs to be done. Doctor: "Intel will change this region. It's such a complex business accommodation that no one can fully assess what it will all mean. It applies to us as a vocational college, but also to the city, how to deal with infrastructure improvements and all kinds of facilities such as schools."
DATE
Doktor expects a lot from the organization "Deutsche Agentur für Transfer und Innovation (DATI)", which was established this year, and which aims to ensure that educational institutions, researchers, companies and the public sector work more closely together. A new technical chair at the university is also being considered.
Enough student housing
One advantage: no one has to worry about student housing here, as was evident during a visit to the university's campus. There are at least 9 Wohnheime for students and plenty of room for more. A Dutch student town can only dream of that.
A group of Indians – two men and a woman pursuing a technical master's degree at the university – confirm the university's international character. "There are more foreign students here than German," says one of them. They have of course heard about Intel's arrival. "Maagdenburg awaits a metamorphosis."