The exhibition Opposite blackness in Amsterdam Black Archives displays Dutch visual representations of black people, from colonial times to contemporary society. We also spoke on site with Black Archives head Mitchell Esajas the curator on duty, about why this exhibition. 'Students learn from us about the origins of racism, something they don't learn at school.'
A beautiful summer day in Amsterdam East. Mitchell Esajas (34) stands at the entrance to the exhibition Opposite blackness and points to the back of his yellow Patta shirt: a photo of Surinamese resistance hero Anton de Kom, about whom Esajas has written a book. Isaiah himself is still contentious. Zwarte Piet is a thing of the past in many cities and the discussion about this figure has turned, he begins, but many people do not realize that the racism behind Zwarte Piet is a structural problem.
For example, many white people maintain that the Zwarte Piet tradition has nothing to do with slavery or colonialism. There are also people who are empathetic to change and feel that our grief must be understood. That is good and important. But even then you still don't get it Why Zwarte Piet is problematic.'
This racist nature of Zwarte Piet can only be fully understood by knowing the historical context of anti-black racism in the Netherlands, explains Esajas. Together with Jessica de Abreu, Raul Balai and a team of researchers and artists, we created the exhibition Opposite blackness organized because we want to make visible the unrevealed history of the colonial image and the resistance to it and pass it on to the public.'
This history is full of negative stereotypes of black people, which in turn has implications for the treatment of black people in today's society, according to Esajas. He still remembers how he and Jerry Afriyie in an article by The telegraph were portrayed as hooligans. The reason? Because they protested in a peaceful way against Zwarte Piet.
'Race' as a product of racism
The exhibit opens with a beautiful explanation of how the black body has been studied through the colonial lens throughout history. This applies, among other things, to the so-called 'skull measurement', where it was established that black people are less intelligent than white people. Using this kind of pseudoscience came the race theory that categorized black people as less civilized and intelligent than white people.
The concept of 'race' is therefore a product of colonial and racist ideas, the exhibition says. But racism was not limited to anthropology alone. We also see it in art. The painting of Princess Maria van Oranje by the artist Jan Mijtens (1614-1670) depicts a black servant. The boy's name is unknown and he is clearly depicted as a subordinate. It is not known if this servant was also posing or if it was painted to show that the princess had a black servant.
The exhibition also reflects on black resistance to racism. These include the resistance of enslaved Africans in the French colony of Santo Domingo, the philosopher and anthropologist Antenor Firmin (1850-1911), who in his book Equality of Human Races against dominant racial thinking, and Ira Aldridge (1807-1867), the first black actor to play Othello in William Shakespeare's play of the same name.
These stories are still missing from the school curriculum, says Esajas. 'When people think of racism, they usually think of explicit racism: the use of the n-word or violence against black Dutch people. But when we talk about structural racism, we mean the lack of this colonial history and the stories of black resistance heroes in schools in the Netherlands. I think it is important that Dutch children get this story.'
The exhibition space is filled with display cases of impressive, sometimes horrifying, objects. For example, there is a bottle of lemonade syrup from the middle of the last century, with the image of a black person and the indication 'nigger'. There are also books with titles such as The ten little niggers. They remind the visitor how black people in the twentieth century were stereotyped as less civilized or even violent. And how black people were told that they and their culture are inferior.
Also take the book Black people in children's books (1980) by Surinamese-Dutch anthropologist Roline Redmond, who researched racist stereotypes of black people. Or the children's book Dagoe the little bushman by the author Anne de Vries (1954), about a twelve-year-old boy from 'pagan' Suriname who had to be 'saved' by the Christian faith. According to Esajas, the contrast between the 'backward' Surinamese culture and traditions against which the 'superior' Christian culture was set is a theme that recurs in many children's books, and which we also see in Surinamese society.
'The Surinamese tradition wont (a traditional Afro-Surinamese religion, ed.) was banned under the influence of Christian missionaries. It was seen as idolatry.' He shows a work of art by the Surinamese-Dutch Jaasir Linger: a large white ball with a blue border underneath. 'I think this is one of the most beautiful works of art. The videos of the young Jaasir in Suriname are projected onto the ball. The artwork symbolizes the winti tradition and how these rituals protect us from negative energy. Protecting yourself from negativity allows you to discover and embrace yourself and your culture. Therefore, I see this art as a form of liberation and decolonization for Afro-Surinamese.'
'What I find special is that we have found a lot of archive material from previous protest movements against Zwarte Piet', says Esajas enthusiastically. He leaves a flyer with the book Sinterklaas enters without a servant (1998) by the Surinamese-Dutch writer and activist Lulu Helder see. In this book, Helder already wrote about the racist stereotyping of Zwarte Piet.
Esajas: 'Lulu Helder, like Jerry Afriyie and I, also faced a lot of opposition from the white majority. I think that nowadays we can more easily mobilize people to protest against racism because we now have social media and are therefore much less dependent on the mainstream media.'
'Many people who visited the exhibition, white and black, call it one eye opener'
Many people have now seen the exhibition Opposite blackness seen. With this exhibition, Esajas hopes to contribute to the visitors' historical awareness. 'Many people who visited the exhibition, white and black, call it one eye opener. School children learn about the origins of racism, something they don't learn at school. By giving them this knowledge, students can recognize racism in society more quickly and better.'
This gives Isaiah hope. 'If you still hold on to Zwarte Piet out of ignorance, and you don't have the arguments why it's a wrong tradition, why should you change? Only when you have enough information about the historical context can you realize that this tradition cannot be separated from racist stereotypes of black people. I want people to experience this exhibition for themselves and absorb the knowledge so that they not only educate themselves, but can also enter into discussions with family and friends.'
How do you curate such an exhibition about blackness? It was quite a challenge, he explains. 'We have a large amount of racist images and objects. Of course you want to show this to visitors so they realize how 'normal' racism used to be. At the same time, you do not want to create a space where you are bombarded with racist images. That is why we have tried to put together the exhibition in layers: First, objects about the resistance heroes, and then for visitors to look over the display cases to see the racist books and objects.'
Emancipation of Afro-Surinamese
Esajas himself attended a relatively white high school in Amsterdam Oud-Zuid, where he was the only black high school student. When he attended the Free University, he received strange comments from fellow white students. 'I studied Cultural Anthropology and I got comments from my fellow students like 'Oh, you must be a really good dancer' or 'Are you at university?'
Curator for Opposite blackness also encountered raw racism. 'Once a couple of fellow students tried to piss me off online by posting and promoting a video of Zwarte Piet. I got into a conversation with them, to which one student replied that I had to 'go back to my own country'. Another said: 'I'm not racist because I've been to Africa.' These kinds of experiences have stimulated me to later oppose racism as an activist.'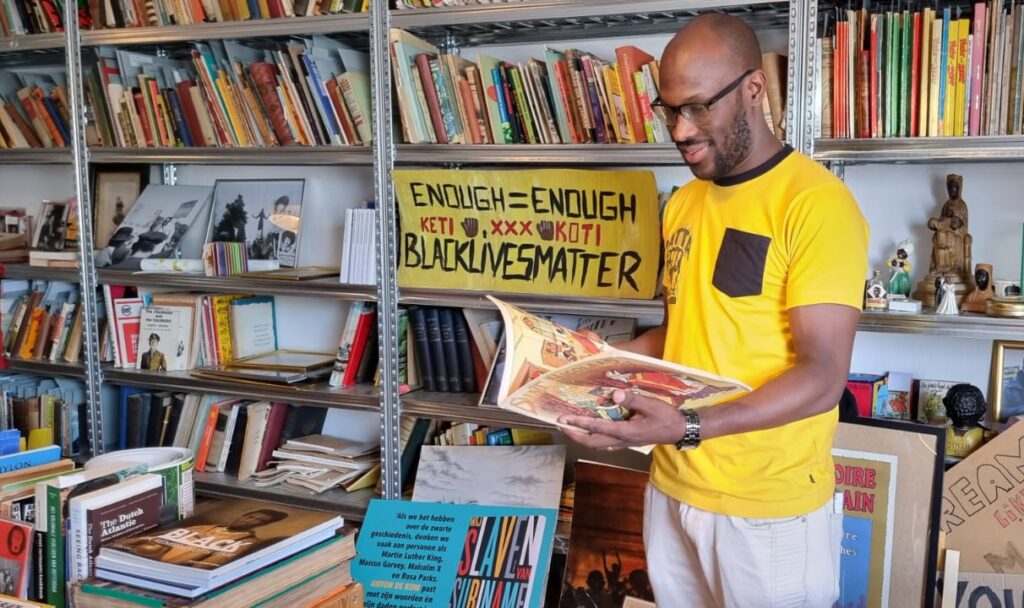 Esajas shows his office in the building to The Black Archives. He takes a sip of his Fernandes and says: 'We started the organization New Urban Collective in 2011 with some friends because we noticed that there was a lack of diversity in the university and in the school curricula. In the same year, the campaign 'Zwarte Piet Er Racisme' started.'
He says that he has been less involved in activism in recent years. After his car total loss was beaten by far-right supporters of Zwarte Piet, and his girlfriend also had to deal with health problems, Esajas decided to focus less on protest actions. 'I hope I have been able to contribute to the fight against anti-black racism and to create more historical awareness. You never do that alone, but as part of a larger movement,' he says.
"We have to realize that just debating Zwarte Piet and racism is not enough to tackle the structural problem," emphasizes Esajas. "We can continue to protest against racism and inequality of all kinds for decades and keep knocking on the doors of schools and universities until they hear our story. And that is also very important. But what has really changed? On The Free University of Amsterdam now has one diversity officerbut has this solved the problem of institutional racism?'
'We must realize that it is not enough to debate Zwarte Piet and racism'
Isaiah advocates radical change. "It is time for the curriculum to be reworked so that the stories of black people and the way they have been characterized over the years get more attention. I therefore hope that the problem of institutional racism will be solved from within politics and institutions.
'I strongly believe in my own strength and liberation from the black communities. We can only influence institutes in the Netherlands if we remain strong.'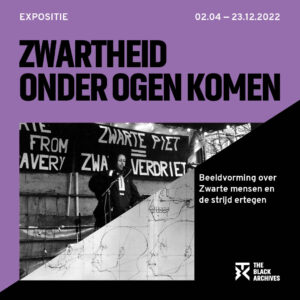 The exhibition 'Facing Blackness' can be seen until 23 December at The Black Archives in Amsterdam.
Good journalism costs money. Members and donations enable our balanced coverage of bee culture, opinion and freedom. So support us if you think our work is important.
Tell me more!