Not only the free web platform can sound like an adventure for many associations. The origin of the company behind Onze Vereniging also sounds like a fairy tale. LHS Global is a relatively young company that mainly deals with web development, branding, infrastructure and cloud applications. LHS Global is the child of Kristof De Vos (24) and Alexander Schillemans (24). Despite their young age, they have known each other forever. They went to primary school in Grasheide (Putte) together. Later they met again in college when they were both studying IT.
Student entrepreneur
It was IT specialist Kristof De Vos (24) who sowed the first seeds for LHS Global in 2017 as a student entrepreneur. "Back then, I mainly dealt with web design. At some point there came a turning point where my hobby became a business. I quickly realized that more was possible. Then a new application came to me. I knew that Alexander was the right man to help me with that. He also had a business at the time. From then on we joined forces and we are called LHS Global. At first we did it as a side job, but we quickly decided to take the big step and become a full-time entrepreneur."
The acronym LHS stands for Lighthouse Solutions. "It's another name we once came up with at the vocational college. First we sat in Putte for a while. After that, we worked in a co-working space in Mechelen, and we have been in Booischot for a year now," explains Alexander. In the meantime, the company works with a team of 7 people.
chiro
Like LHS Global, the new web platform Onze Vereniging has grown organically. Alexander is someone who was associated with Chiro JEGRA van Grasheide throughout his youth and is still part of the management today. He discovered that there was a lot involved in keeping the administrative side of the association in order. As an IT specialist, he did not give up and started working on a solution. "Once it was there, we immediately got the idea to do something more with it and make it available to other associations as well," says Kristof De Vos.
Available
There was still work to be done to adapt Our association to all types of associations and to get it in order also from a legal and security level. In addition, a number of extra options have been added so that an association can be fully managed via the web platform.
"Now everything is ready," says Kristof. "We started cautiously in October. In the meantime, a number of associations are already using the system."
The web platform Our association is free for the associations. However, to offset the costs incurred by LHS Global, an annual transaction fee is charged per person who joins the association. "It's only 2 euros per member. That amount can either be charged extra to the members, or the association pays it," explains Kristof. Isn't the platform completely free anyway? "It depends. Or the association can pass on the 2 euros by increasing the membership fee by 2 euros. In that case, the association itself does not pay anything. But associations can also choose to pay the 2 euros per member."
relieving
Kristof and Alexander are currently doing a lot of demo sessions for associations. "We want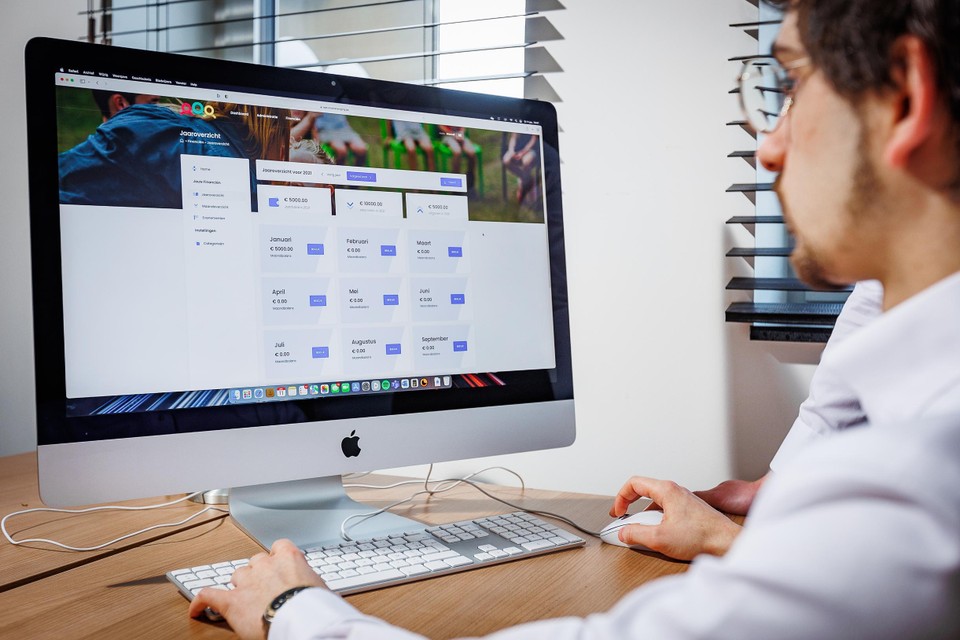 don't force anything on people. We show the possibilities and afterwards they can test it themselves. As long as no new members are added to the platform, everything is non-binding. With the platform, we can really help and relieve everyone in an association," says Kristof. For the time being, an association can handle all of its member administration, get a financial overview and manage online payments and activities via the platform. We are currently working on a module for sending out newsletters.
From 20 hours to two minutes
"Now associations face more and more administrative requirements. An association's policy must be transparent. You must keep track of everything precisely. Now it often happens in thick covers that are somewhere in a closet. With our web platform, you can find everything much easier, and reports and overviews are created automatically. The follow-up of those who have paid their dues is also not always easy. Our association allows members to pay online and receive an email with a reminder if necessary. You can also register for activities via the same route. The organizers receive a nice list of participants. There is even a separate overview for activities organized by an association. Suppose that a restaurant day is organized, then you will get an overview of all costs and income for that particular activity. In this way, you know immediately what the event has provided. Our slogan is 'Bring your administration from 20 hours to 2 minutes'. As more associations join the platform, minor adjustments can be made. Furthermore, Our Association is completely personal according to the association's house style. The web platform can be integrated into the association's existing website via a link."
Kristof and Alexander hope that many associations will find their way to the web platform in the near future and discover its advantages.
LHS Global in numbers
LHS Global, Dorpsstraat 111 bus 2, Booischot
Activities: web development, branding, infrastructure and cloud applications, web platform Onze Vereniging
Managers: Kristof De Vos (24) and Alexander Schillemans (24).
Founded in 2019
Number of employees: 4 permanent employees and 3 freelancers
www.lhs.global