Should you think about it? Climb stairs in a tower in a relay race for 88.5 hours? Students from the University of Twente (UT) do it because they are doing it at the moment. For KWF (Queen Wilhelmina Foundation) under the name Alpe d'Horst and the motto 'Stairs against cancer!'
They are strong with two hundred men and women who in De Horst, the tallest building at UT in Enschede. Panting and panting, but full of energy, they go up and down the stairs from the fourth to the twelfth floor. Who knows, yesterday's news, 'the judge thinks the students should not be excluded from the energy grant', gave them some new energy. They are working on the final stretch, because tomorrow afternoon at 3pm is the goal.
Escalators for KWF
If you think: 'The students are walking up and down again…' Wrong. They run as long as they can. 88.5 hours in their pink sports jerseys. This also applies to Stan van der Wel, (master's) student Industrial Engineering and Management and promotion and media coordinator for the exhausting event.
He started early on Monday morning with his 199 fellow students. 88.5 hours, that's not seven days, you might say. Van der Wel explains, just after he himself has climbed stairs for an hour and a half for KWF: "Non-stop was the intention at the beginning. Climbing stairs against cancer had to be done during the holidays, otherwise it would be too disruptive for lectures. But there is, for example, movement during the last night. We then start around 02:00. Other days we go up and down the stairs between 9.00 and 22.30."
The students could register in teams. The teams are all divided into a running schedule where they run through the tower as a team in relay form for a while and then rest again. When Subway watched the live stream of the event yesterday, the university stairs had already been climbed more than 2,500 times.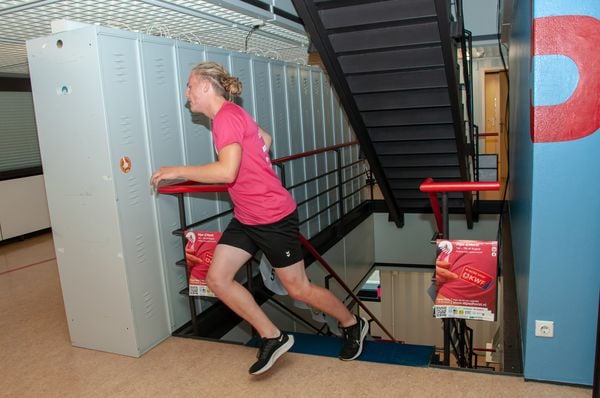 Invented and executed in the corona year 2020
It is not the first time that the students in Enschede have worked hard for KWF. This happened for the first time in 2020. They held 72 hours together with sixteen housemates and collected 11,000 euros in sponsorship money (yesterday afternoon the current counter already stood at 22,000 euros). Stan van der Wel: "The idea arose during the lockdown. One of the girls from the house had already participated in the Alpe d'Huzes (walk and cycle for the cancer fund on the mountain Alpe d'Huez in France, ed.). We then watched a video of a , who ran up stairs and set a record. Then we thought 'can't we emulate that Alpe d'Huzes'? We had a bit to do because of the shutdown. Yeah, it was super fun."
The students did not go for the world record in stair climbing, but they went for awareness and in that way collected as many donations as possible for KWF. Five years ago, students from the Rotterdam University of Applied Sciences also went up the stairs, but then they themselves were the charity. For each flight of stairs instead of the lift, they got one point, which they could redeem in the school canteen in the form of cheaper (healthy) products such as fruit.
Counts for KWF well over 20,000 euros
Collecting the money, as the students in Enschede do, goes more than well during the second edition. As reported, more than €22,000 in donations had been received as of yesterday afternoon. Van der Wel: "Very nice, yes. We receive many anonymous donations. But each team also has its own donation page. It is often shared with family and friends. By going with many people, you can reach more others and it shows seems to work well."
The support for KWF runs smoothly and will provide energy, but how hard is the literal walk itself? Van der Wel: "Everyone starts and thinks 'well, it's not that bad'. After that you quickly notice that it takes an hour and a half. Then you go on a roller coaster for a while. I just went all the way by myself. When the last half an hour begins, the thought changes again. And you think 'I can keep up with the last part'. It's still hard, but everyone goes for it".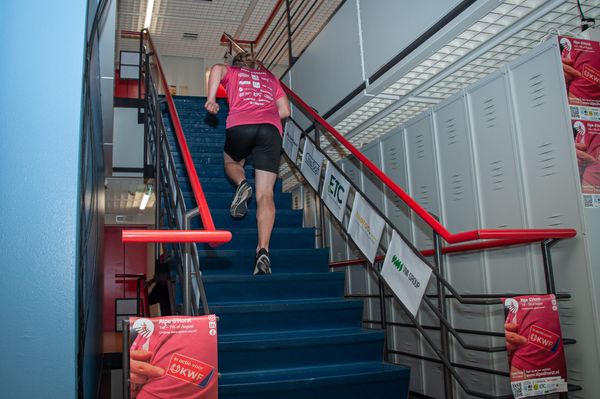 Once but never again?
Anyone who only sees stairs for a week, even if you know you're doing it for KWF, could no doubt shout 'once but never again'. Or are there already sounds for a third edition and maybe 100 hours? Van der Wel partly knows the answer: "It's like running, it still gives a good feeling at the end. Then you decide you want to do it more often. And of course that doesn't happen, haha. That's how it is now. We only get positive reactions from the teams. But just like with the running example: a third time, I don't know yet. It would be nice, that's all I can say about it."
KWF will organize a second edition of 'Stairs against cancer!' in any case be very satisfied. An employee of the Queen Wilhelmina Foundation will participate in the closing barbecue tomorrow afternoon and will receive the check for an as yet unknown but large amount. Can't Stan van der Wel see stairs yet? "Maybe not for a while. On the other hand: I like to break down every now and then."
The Premier League starts! Good football facts to kick off the season
Have you seen an error? Email us. We are grateful to you.